Main content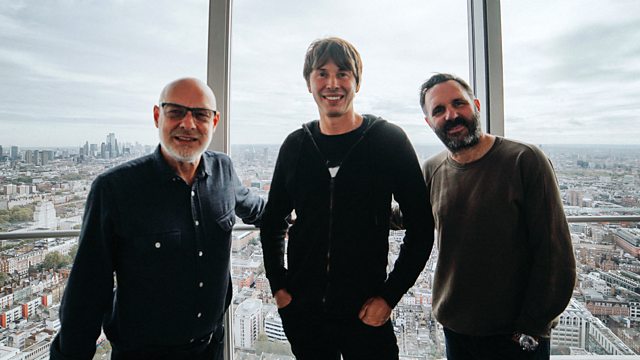 Ep 253 - The Two Brians Christmas Special - Brian Eno and Prof Brian Cox join Shaun
Brian Eno and Prof Brian Cox join Shaun for their 4th annual Christmas Special - this year recorded at the top of the BT Tower in London - to discuss the topic of communication
Brian Eno and Prof Brian Cox join Shaun Keaveny for their 4th annual Christmas Special - this year recorded at the top of the BT Tower in London.
Previous years have seen the two Brians joining Shaun at the Greenwich Observatory, Brian Eno's studio.....and the local pub! But this year we at the very top of the BT Tower in London, one of the Capitial's most iconic landmarks to broadly discuss the topic of communication. 177 meters above London, the two Brians join Shaun to discuss if language has become weaponized, could aliens communicate with us via music and what is 'the great silence'?
Plus, there are some incredible music choices from the two Brians for Christmas Day.
Last on
Music Played
Andy Williams

It's The Most Wonderful Time Of The Year

Julian Casablancas

I Wish It Was Christmas Today

CD SINGLE.
ROUGH TRADE RECORDS.
1.

The Darkness

Christmas Time (Don't Let The Bells End)

Stevie Nicks

Silent Night

Jona Lewie

Stop The Cavalry

The Ivor Novello Winners.
EMI.

Little Eva And Big Dee Irwin

I Wish You A Merry Christmas

Bootsy Collins

Chestnutz (Aka The Christmas Song)

The Wedding Present

Step Into Christmas

The Emotions

Black Christmas

Slade

Merry Xmas Everybody

THE BEST CHRISTMAS ALBUM IN THE WORLD...EVER!.
Virgin.

Emmy the Great

&

Tim Wheeler

Christmas Day, I Wish I Was Surfing,

Francis Lung

To Make Angels In Snow

Kurtis Blow

Christmas Rappin'

Shonen Knife

Space Christmas

CD SINGLE.
Seminal Twang.
1.

The Beatles

Come Together

Clarence Carter

Backdoor Santa

Slow Club

Christmas (Baby Please Come Home)

CD SINGLE.
MOSHI MOSHI.
1.

Otis Redding

Merry Christmas Baby

Elton John's Christmas Party (Various Artists).
Universal Music.

Lowell Blanchard & The Valley Trio

Jesus Hits Like An Atom Bomb

T. Rex

Christmas Bop

Christmas Hits (Various Artists).
BMG.
Broadcast