Main content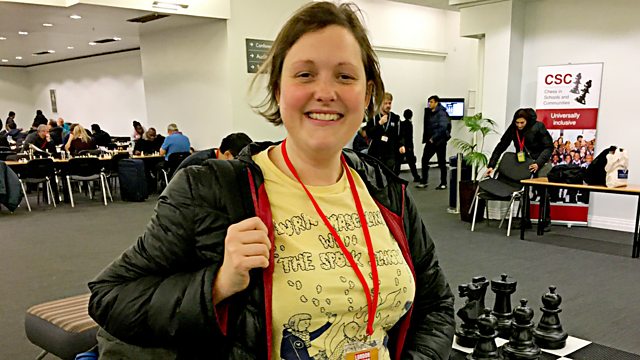 Josie Long's Gambit
Chess was one of the great joys of Josie Long's childhood. Now she's keen to take to the board again to rediscover the game's many pleasures for those millions who play each day.
As a girl, Josie Long liked little more than playing chess, using pieces that - according to fanciful family legend - had been carved in a prisoner of war camp by her grandfather.
But as the years went by, chess struggled to compete with the demands of building a career in stand-up comedy and has become little more than a fond memory, an en-passant fancy.
Now Josie sets out to put that right by resuming her place at the board and celebrating the many pleasures that this oldest of games still offers the millions of people who play each day.
She visits the Casual Chess Club which is trying to rid chess of its stuffy image, talks to international master Danny Rensch about his part in the online revolution the game has undergone, and tries to find out, with Erland Cooper's help, whether beautiful chess can be turned into beautiful music.
The programme serves as a heartfelt hymn of praise to the game as played by both champions and chancers, those who have turned it into an art and those who wouldn't know their zugzwang from their King's Indian.
Produced by Geoff Bird
A Falling Tree production for BBC Radio 4
Last on
New Year's Day 2020
21:00
Broadcasts
New Year's Day 2020

21:00