Main content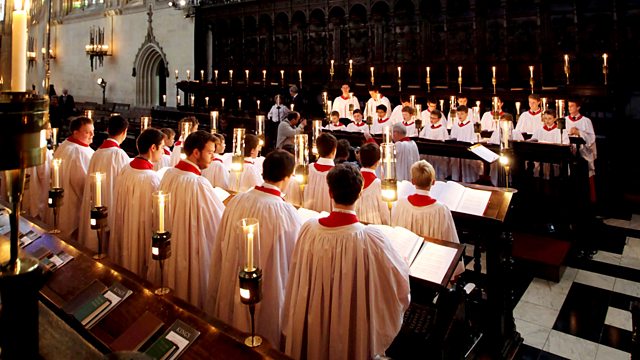 Christmas 2019
Live from the candlelit chapel of King's College, Cambridge. Christmas carols and hymns sung by the world-famous chapel choir.
A live broadcast from the Chapel of King's College, Cambridge.
Once in royal David's city (descant Sir Stephen Cleobury)
Bidding Prayer read by the Dean
Sussex Carol (arr. Vaughan Williams)
First lesson: Genesis 3: vv 8-15, 17-19 read by a Chorister
The Truth from Above (Ralph Vaughan Williams/ arr. Christopher Robinson)
Second lesson: Genesis 22: vv 15-19 read by a Choral Scholar
Angels from the realms of glory (arr. Reginald Jaques)
Ding dong! merrily on high (arr. Sir David Willcocks)
Third lesson: Isaiah 9: vv 2, 6-7 read by a representative of the Cambridge churches
It came upon the midnight clear (descant John Scott)
O little town of Bethlehem (Sir Henry Walford Davies)
Fourth lesson: Isaiah 11: 1-4a, 6-9 read by the Chaplain
There is no rose (Dame Elizabeth Maconchy)
The Lamb (Sir John Tavener)
Fifth lesson: Luke 1: vv 26-35, 38 read by a member of College staff
The Angel Gabriel (2019 commission - Philip Moore)
Joys Seven (arr. Sir Stephen Cleobury)
Sixth lesson: Luke 2: vv 1-7 read by a representative of the City of Cambridge
Silent night (arr. Sir Stephen Cleobury)
Candlelight Carol (John Rutter)
Seventh lesson: Luke 2: vv 8-17 read by the Director of Music
While shepherds watched their flocks by night
Away in a manger (arr. Sir Stephen Cleobury)
Eighth lesson: Matthew 2: vv 1-12 read by the Vice-Provost
Coventry Carol (Kenneth Leighton)
Sir Christèmas (William Mathias)
Ninth lesson: John 1: vv 1-14 read by the Provost
O come, all ye faithful (descant Sir David Willcocks)
Collect and Blessing
Hark! The herald angels sing (descant Sir Philip Ledger)
Organ voluntaries:
In dulci jubilo (BWV 729) (Bach)
Final from Symphonie VI (Louis Vierne)
Director of Music - Daniel Hyde
Organ Scholar - Dónal McCann
Chaplain – The Revd Andrew Hammond
Dean – The Revd Stephen Cherry
For millions listening on radio and online around the world, A Festival of Nine Lessons and Carols, live from the candlelit Chapel of King's College, Cambridge, marks the beginning of Christmas. It is based around nine Bible readings which tell the story of the loving purposes of God. They are interspersed with carols old and new, sung by the world-famous chapel choir who also lead the congregation in traditional Christmas hymns. This year the Festival is conducted by King's College's recently appointed Director of Music Daniel Hyde.
Fittingly, this year's service marks the musical contribution (through their arrangements and descants) of several former Directors of Music, including Sir David Willcocks (born a century ago in 1919), Sir Philip Ledger and Sir Stephen Cleobury, who passed away recently at the age of 70. Sir Stephen's contributions to the literature feature in several carols and in his descant to Once in Royal David's City. A descant by John Scott marks the work of Daniel Hyde's predecessor at his previous post as Director of Music at St Thomas Church Fifth Avenue, New York.
A new carol has been commissioned for the Christmas Eve service every year since 1983, a tradition begun by Sir Stephen Cleobury. The specially-composed carol for 2019, The Angel Gabriel, is by composer and former Organist and Master of the Music at York Minster, Philip Moore.
Significant twentieth century composer Dame Elizabeth Maconchy features in the service, as well as Reginald Jacques, who collaborated with Sir David Willcocks in the first volume of his famous Carols for Choirs. Jacques, alongside Kenneth Leighton and Sir Henry Walford Davies, all celebrate significant anniversaries in 2019.
Producer: Philip Billson
Last on
Broadcast

Once in royal David's city – stepping up for the great solo
Celebrating 100 years of Nine Lessons and Carols