Main content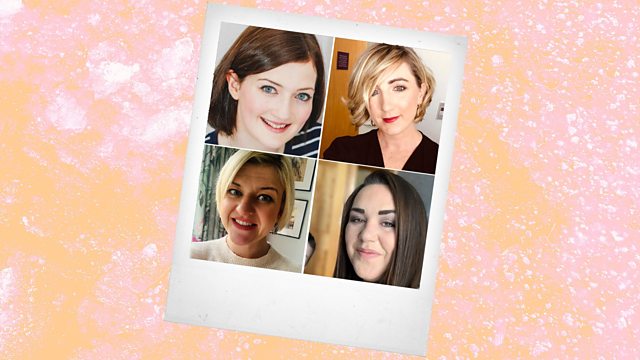 The Real Derry Girls
The Real Derry Girls, actor and writer Joanna Scanlan in Dracula this Christmas, Christmas Day in Hospital, and the Abba exhibition at the O2.
2019 has been another eventful year in Northern Ireland's second city, Londonderry. There was the shocking murder of the young journalist Lyra McKee, shot by dissident republicans and as a border city it's been at the heart of the Brexit debate. The Northern Ireland Assembly at Stormont is still deadlocked over power-sharing. On a lighter note, it has also basked in the success of the second series of the hit Channel 4 TV comedy series, Derry Girls - the raucous misadventures of a group of teenagers growing up in the 90s. So what do 'real' Derry girls, from both communities, make of the past year in their city? Kathleen Carragher spoke to four Derry women who are contemporaries of TV's Derry Girls - they were teenagers in the 90's
The actress and writer Joanna Scanlan is known for Thick of It, Getting On, No Offence Puppy Love and most recently The Accident. Her latest role is as Mother Superior in the BBC's new adaptation of Dracula. She joins Jenni to discuss.
Christmas is upon us and whilst many of us hope to celebrate and be merry, for some it is still a time of work and support for those in ill-health. Jenni speaks to Molly Case, a clinical nurse specialist for inherited cardiac conditions at St George's in London, and author, Christie Watson who was a nurse for 20 years until quite recently. What are the highs and lows for both patients and staff spending Christmas Day in hospital?
Mamma Mia, Dancing Queen, The Winner Takes It All – ABBA are one of the most iconic bands of all time. 'ABBA: Super Troupers The Exhibition' explores their incredible career through music, lyrics, costumes and personal photos, many of which have not been previously displayed in the UK. Jane visited the exhibition and discussed their legacy for women with assistant curator, Syd Moore.
Presenter: Jenni Murray
Producer: Kirsty Starkey
Interviewed Guest: Joanna Scanlan
Reporter: Kathleen Carragher
Interviewed Guest: Christie Watson
Interviewed Guest: Molly Case
Interviewed Guest: Syd Moore