Main content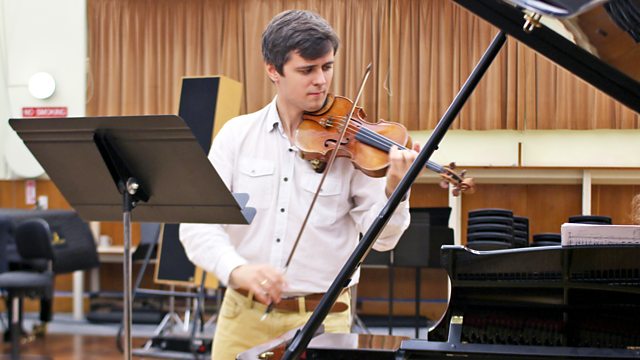 Aleksey Semenenko plays Ravel's Tzigane
The Ukrainian violinist Aleksey Semenenko dazzles in Ravel's Tzigane, the guitarist Thibaut Garcia explores an Anatolia folk song and Misha Mullov-Abbado riffs on Topsy.
New Generation Artists at the Cheltenham International Music Festival.
Kate Molleson introduces performances recorded earlier this year by three artists who are coming towards the end of their two years on Radio 3's prestigious young artist programme. The Ukrainian violinist Aleksey Semenenko dazzles in a showpiece by Ravel and the award-winning Toulouse-born guitarist Thibaut Garcia explores a set of variations on a beautiful theme from Anatolia. And the inspired Misha Mullov Abbado is heard in riffs on a tune by Eddie Durham.
Ravel: Tzigane
Aleksey Semenenko (violin), Inna Firsova (piano)
Carlo Domeniconi: Variations on Anatolian Folksong
Thibaut Garcia (guitar)
Eddie Durham: Topsy
Misha Mullov-Abbado Group
Established two decades ago, Radio 3's New Generation Artist scheme is internationally acknowledged as the foremost scheme of its kind. It offers a platform for artists at the beginning of their international careers. Each year six musicians join the scheme for two years, during which time they appear at the UK's major music festivals, enjoy dates with the BBC orchestras and have the opportunity to record in the BBC studios. The artists are also encouraged to form artistic partnerships with one another and to explore a wide range of repertoire, not least the work of contemporary and women composers. In recent years Radio 3's New Generation Artists have appeared in festivals or concerts in Aldeburgh, Bath, Belfast, Birmingham, Buxton, Cheltenham, Edinburgh, Glasgow, Hay-on-Wye, Orkney, Ryedale and Stratford-upon-Avon as well as at the BBC Proms. Not surprisingly, the list of alumni reads like a Who's Who of the most exciting musicians of the past two decades. In this series, we can catch those artists near the beginnings of their journeys.
Featured in...
We broadcast more live and specially-recorded concerts and opera than any other station.