Main content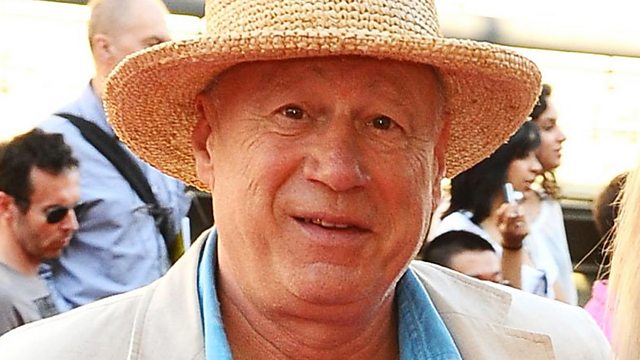 Neil Innes, Steve Sawyer, Sheila Mercier, Alasdair Gray
Matthew Bannister on musician Neil Innes, activist Steve Sawyer, actress Sheila Mercier, author Alasdair Gray
Pictured: Neil Innes
Matthew Bannister on
Neil Innes, the talented musician who was a member of the Bonzo Dog Doo Dah Band, worked with Monty Python and satirised the Beatles. Roger McGough and Michael Palin pay tribute.
Steve Sawyer, the Greenpeace activist who helped to evacuate the Pacific Islanders of the Rongelap Atoll after they were affected by nuclear testing.
Sheila Mercier, the actress best known for playing Annie Sugden in the TV soap Emmerdale.
Alasdair Gray, the Scottish novelist and painter who created the acclaimed novel Lanark.
Interviewed guest: Roger McGough
Interviewed guest: Michael Palin
Interviewed guest: Brian Fitzgerald
Interviewed guest: Anthony Hayward
Interviewed guest: Jean Rogers
Interviewed guest: Frazer Hines
Interviewed guest: Alan Riach
Producer: Paula McGinley
Archive clips from: Chain Reaction, Radio 4 20/04/2016; Innes Own World, Radio 4 Extra 29/06/2018; All You Need is Cash, directed by Eric Idle and Gary Weis, Broadway Video 22/03/1978; The Reunion, Radio 4 14/09/2003; Rainbow Warrior's Rongelap Voyage, 25/06/2015, Pacific Media Centre; Breakfast Time, Radio 4 10/07/1985; Open To Question, Radio 4 15/10/1985; 1800 News Bulletin, Radio 4 26/08/1997; Emmerdale, ITV 31/10/1972; Emmerdale, ITV 16/07/1973; Emmerdale, ITV 19/05/1988; The Late Show: Alasdair Gray, BBC Two 18/10/1993; Artworks Scotland: Alasdair Gray, BBC 2S 14/11/2004; Alasdair Gray at Eighty, BBC 2S 27/12/2014; Reporting Scotland 2018: Alasdair Gray, 05/04/2018.
Last on
Neil Innes
Born 9 December 1944; died 29 December 2019, aged 75.
Last Word spoke to poet Roger McGough, and comedian and TV presenter Michael Palin.
Steve Sawyer
Born 10 July 1956; died 31 July 2019, aged 63.
Last Word spoke to his friend, fellow activist Brian Fitzgerald.
Sheila Mercier
Born on 1 January 1919; died 4 December 2019, aged 100.
Last Word spoke to writer Anthony Hayward, Emmerdale co-star Jean Rogers, and former Emmerdale actor Frazer Hines.
Alasdair Gray
Born 28 December 1934; died 29 December 2019, aged 85.
Last Word spoke to Alan Riach, Professor of Scottish Literature at the University of Glasgow.
Broadcasts