Main content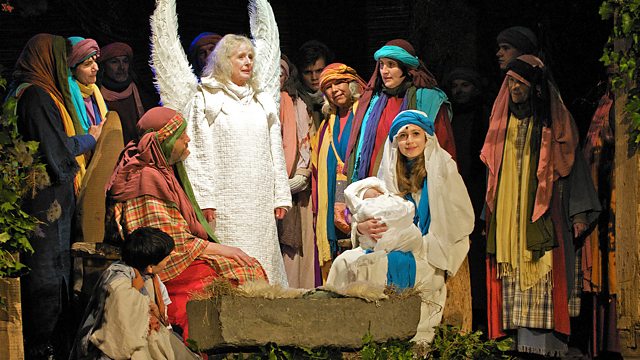 Christmas Service: A Wintershall Nativity
A Nativity service from the Wintershall Estate near Guildford.
A Nativity service from the Wintershall Estate near Guildford. Each December a large cast of players and animals bring alive the Christmas story, drawing huge crowds to the estate as they retell the story of the birth of Jesus. The Bishop of Dorking Jo Bailey Wells leads a congregation of friends of the estate and explores why people love the richness of this iconic story which is at once theological, mystical and magical. Baptist minister Richard Littledale explores the different levels of truth which it has for many. A festive treat of congregational Christmas hymns are led by the Wintershall choir, and Brandenburg Brass, directed by Stuart White. Producer: Andrew Earis.
A Wintershall Nativity
Carol: O come, all ye faithful
Welcome and Opening Prayer: Jo Bailey Wells
Grace, mercy and peace from God our Father and the Lord Jesus Christ be with you this glorious Christmas morning!
I'm in the community Wintershall, nestled a few miles from Guildford in the stunning – if also soggy - Surrey Hills. It's not often I wear wellie boots for worship but I've already been in the fields this morning.There's a whole company of volunteer actors here, a good few fluffy lambs bleating vigorously, as well as a lively congregation. I invite you to join us in heart and mind, to participate in the greatest story ever lived and to worship the God who is born to us this day: the Word who cannot speak, who lies in a manger.
Let us pray in the peace of this Christmas celebration
That our joy in the birth of Christ will last for ever.
Lord Jesus Christ,
Your birth at Bethlehem
Draws us to kneel in wonder at heaven touching earth:
Accept our heatfelt praise
As we worship you,
Our Saviour and our eternal God.
Amen.
SCENE 1: NO ROOM AT THE INN
Carol: Once in Royal David's City (verse 1)
Prayer (Jo Bailey Wells)
Mighty One, who came to pierce our darkness: shed your light wherever we live in shadow, cast your peace wherever we experience chaos, and bear all who are charged with government on your shoulders, that our world may be transformed after your likeness, O Jesus Christ our Shepherd and Lord. Amen
Reflection: Richard Littledale
In nativity plays in school or church, nobody really wants to play the innkeeper.  The costume is rather dull, and for the most part the lines stretch to 'no room' or a shake of the head. 
We should maybe think of the role, though not so much as an innkeeper as a gatekeeper.  Here is the maker of heaven and earth set to make his entrance to the created order as a baby born of human mother.  Between him and that moment stands a landlord with a decision to make and a door to unlock.  Will he say yes or no?  Will the door remain shut or swing open?  Will he think just a little harder about whether there is anything he can do or offer to make the King of Glory welcome?  When he relents and makes room for the Messiah, he paves the way for tens of thousands of Christian men and women who have done just that ever since.  Mary, stooped at the door and waiting to be let in is a cipher for the Lord who waits at the door of the heart.  The innkeeper is a cipher for those who open it.
Over the years, I have acquired numerous depictions of the nativity from around the world.  They come in all shapes and sizes, with all sorts of quirks.  They are made of glass, wood, china and stone.  They feature everything from a giant budgerigar and a triangular chicken to three wise bishops.  One of them is from Kenya, and made from banana leaves.  Its little doors remain shut until someone has a mind to open them and reveal all that is within.  Another is from Peru – its gaily painted doors hiding all that is within until somebody opens them. 
To us, God comes, and waits before the door.
Carol: Little donkey, little donkey
With the Wintershall Choir and pupils from Cardinal Pole School, Hackney, Froxfield Primary School, St Paul's Primary School, Thames Ditton, The Holy Cross School, New Malden and St Bedes school, Redhill
Prayer (Jo Bailey Wells)
Mighty One, who came to pierce our darkness: shed your light wherever we live in shadow, cast your peace wherever we experience chaos, and bear all who are charged with government on your shoulders, that our world may be transformed after your likeness, O Jesus Christ our Shepherd and Lord. Amen
SCENE 2: THE SHEPHERDS
Carol: While Shepherd's watched their flocks by night
Prayer (Jo Bailey Wells)
God of surprises: we marvel this morning that when you came to earth you chose to reveal your glory first to shepherds – to those on the margins, to the underprivileged. Reveal your glory to those who might least expect it today and reorder our lives to reflect the priorities of your love for the vulnerable, revealed to us through the birth of Jesus Christ, a babe, yet our Saviour. Amen.
Reflection: Richard Littledale
When I get my nativity sets out each year and decide which ones to display – I often have a problem.  Who is Joseph and who is a shepherd?  Their costumes are very similar in almost all depictions – and in the end it often comes down to the presence of a shepherd's crook to distinguish who is who.
The shepherds were unremarkable, which is precisely the point.  In fact, they were worse than unremarkable.  They were social pariahs – ritually and physically unclean, living outdoors in all weathers , and generally thought to be untrustworthy.  By the law of the land they were deemed too unreliable to testify in a court of law.
Small wonder, then, that our characters just now sounded so amazed not just at the visitation itself, but that they had been chosen for it.  In choosing to reveal the news to them first, God was making a point.  These were the first rumbles of a seismic shift in the way of the world.  The mighty would be brought low, the humble lifted up, the poor made rich and the outcasts brought in from the cold.  The sky lit up at night by angels as far as the eye could see was a wondrous thing – but it is only the shepherds who saw it.   This was a private showing for those underprivileged eyes.  To them, the good news came.
Their simple delight at discovering the baby just as they had been told, and their instinctive desire to tell anyone who would listen all about it make them pathfinders for the sharing of the Gospel.  Blessed beyond measure and too thrilled to feel shy about sharing it – they teach us all a lesson.
Carol: Away in a manger
With the Wintershall Choir and pupils from Cardinal Pole School, Hackney, Froxfield Primary School, St Paul's Primary School, Thames Ditton, The Holy Cross School, New Malden and St Bedes school, Redhill
SCENE 3: THE KINGS
Carol: We three Kings of Orient are
Prayer (Jo Bailey Wells)
Creator of the cosmos,
open our eyes to the beauty and wisdom of the universe you have made,
open our minds to the scope of your work far beyond our understanding or control.
And open our hearts to all who come from afar,
and to those who are strangers in our midst,
that we may discover the exquisite gifts they bear
and with them come to worship you as King.
Amen
SCENE 4: HEROD
Reflection (Richard Littledale)
There are five kings in this play.  One of them wears only strips of cloth to keep him warm.  Three of them wear robes designed for desert travel.  One of them wears an expression of rage beneath his crown.
In fact, it is rather more than rage.  It is fear dressed up as jealousy.  The arrival of a king for all times and all places right there on his patch frightened the life out of Herod.  As often happens when we are afraid – we lash out at the most vulnerable we can find.  The sound of drawn swords and children wailing fits so ill with the sound of Christmas bells that we would rather drown it out.
Its inclusion in the story though is completely intentional.  A story retold in this idyllic setting in the Surrey countryside could be a million miles from the cruel world and its concerns.  Herod's brief appearance serves as a reminder that Christ was born into 'such a world as this' – where cruelty and power so often sweep the little ones aside.  The infant Jesus, carried in the arms of his fearful parents as they fled, would find many companions amongst the displaced children of the world today.
One day, fully grown, that Christ-child would have to understand the landscape of human experience with all its highs and lows.  Every such landscape has a Herod of some description with balled fists and anger in his heart.  One day, the tiny king laid in the manger will hush them all.
Prayer (Jo Bailey Wells)
Prince of Peace: we pray for all who are vulnerable this day. We cry to you for any who face abuse, for those forced from their homeland, for all who are homeless. Restrain the hands and hearts of those whose anger or fear might lead them to violence.  And bring the mercy of your love and forgiveness to us all in our need and our sin. Amen.
Carol: O little town of Bethlehem (verse 3)
Reflection: Jo Bailey Wells
The birth of Jesus Christ proclaims that God has not given up on us and on his world. God is alive and kicking, literally.
It's easy to think of God as a mystery which lies far beyond us, as if inured to our time and place, to the messiness of our circumstances. But today we celebrate that God-is-with-us, Emmanuel. This is the very essence of God: to be with us - whether or not we comprehend his coming, whether or not there's room at the inn, whether or not we are ready, whether or not we even care. God comes to a world trapped in darkness and deep suffering, first and foremost to be with us.
God comes to us not through rhetoric and debate and argument but in the cries of a powerless baby. God comes not in power and might, looking like a ruler, but in a tiny helpless human life. As Lancelot Andrewes put it 400 years ago, God comes as 'the Word that cannot speak', in deepest vulnerability.
This is our God. And as nativity plays the world over demonstrate, we're invited to take part in the story, whoever we are. In Wintershall there are hundreds of volunteers who take part – from acting and singing to clearing up what the donkey left behind (wow, the smell was pungent – talk about an experience for all the senses!). You've got to enjoy the detail, the humour, the accidents, the impro. At one of the Wintershall performances, the baby Jesus was not always meek and mild – as if he was warming up the vocal chords for some loud prophetic declaration.  One of the shepherds got lost and came in late. The innkeeper couldn't cope – 'all this fuss over a baby!' – shooing people away.  When I was in Delhi for Christmas a few years back, not just every school but every work-place seemed to put on a nativity play – where Christians and Hindus and Muslims all took roles as they shared in marking the festival and inhabiting the story with great hilarity. It was a moving sight – a diversity of people prepared to come to the manger and 'see this thing that has come to pass'. At another one I remember a very well-dressed child from the audience spontaneously joining the queue among the shepherds and magi visiting the manger. His jacket and tie looked so incongruous among the tea-towels and tinsel crowns. Someone snapped a picture of him as he leaned over the manger, frowning … it looked like a health and safety official had arrived to inspect the maternity unit!
Whoever we are – whatever our origins and culture, whatever our motives or qualifications, we have a place in this story. We don't have to wear particular clothes to join the queue at the manger.  We're given a role in God's plan for the universe… so long as we can recognise God. God who inhabits humanity. God who comes in deepest vulnerability. God who reverses all logic, inviting us - risking God's very being - into our arms. God who is the Word that cannot speak.  God who in our messy and messed-up circumstances is utterly and unambiguously determined to be with us.
Rowan Williams has written of how 'in a world of competition, frenzied chatter, control-obsession, there is a terrible aptness in a God who speaks in a child's cry. It's so cruelly hard for believers and unbelievers alike to face the possibility that silence, stumbling, the apparent crudity of this stable birth tell you far more about God than the languages of would-be adult sophisticates.'
Usually a play ends with the actors taking a bow before the audience. But in another glorious reversal of logic, the story of Christmas will end with every participant – even King Herod - brought to their knees, bowing to the God of heaven and earth, the very One who lay helpless on a bed of straw. Emmanuel, God-with-us, forever.
Thanks be to God, who in the birth of Jesus Christ proclaims God has not given up on us and on this world. Amen.
Carol: Silent Night
Prayers & Lord's Prayer
Carol: Hark! The Herald Angels Sing
Blessing (Jo Bailey Wells)
May the joy of the angels
The eagerness of the shepherds
The perseverance of the magi
The obedience of Mary and Joseph
And the peace of the Christ-child
Be yours this Christmas;
And the blessing of God Almighty, Father, Son and Holy Spirit be with you, now and always
Amen.
Brandenburg Brass: Joy to the World!