Main content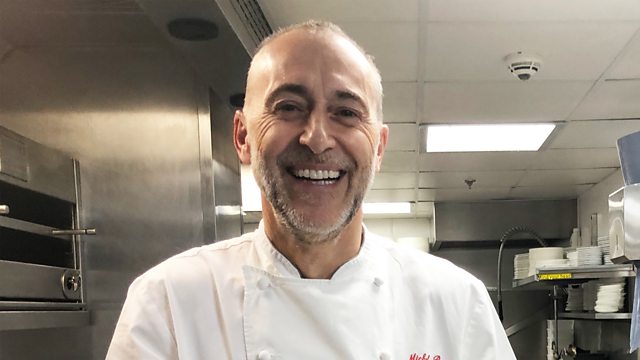 Michel Roux Jr: A Life Through Food
Sheila Dillon visits London restaurant Le Gavroche, to speak to chef Michel Roux Jr about food, family, festive inspiration - and what it means to be part of a dining dynasty
Sheila Dillon visits London restaurant Le Gavroche, to speak to renowned chef Michel Roux Jr about food, family and festive inspiration.
Michel Jr is the second generation of the Roux family to run the Mayfair restaurant, which was started by his father Albert and his uncle Michel. When he took over the kitchen nearly 30 years ago, he fought to put his own stamp on the style – and write the next chapter of the family's food story.
Michel kicks off in the kitchen, cooking two dishes that have special importance to him: Soufflé Suissesse, his father's decadent cheese soufflé creation that diners won't allow to be taken off the menu; and roast quail with potato fondant and mushrooms, a dish that he loves and often cooks at home for the family.
Over the course of cooking and eating the meal, Sheila asks Michel about his life, his love of food, his inspirations and drive – as well as the pressure that come with being part of a dining dynasty. They also discuss how he's dealt with the challenges in his life: from the pay scandal of 2016, when Gavroche employees were found to be earning below minimum wage – to his regret over never quite managing to achieve a work/life balance.
They're later joined by Michel's daughter Emily, who now has her own restaurant in London with her husband Diego Ferrari, and who has a fresh perspective on the industry and how her family have shaped her career.
The programme also hears from one half of the team who originated this dynasty: Albert Roux shares his take on his son's success.
Presented by Sheila Dillon, produced by Lucy Taylor.
Last on

Broadcasts