Main content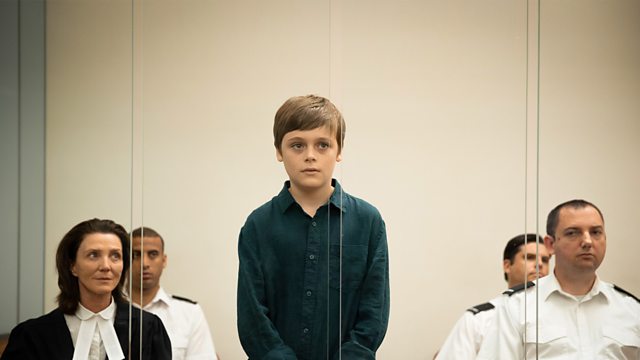 Responsible Child
12-year-old Ray faces the full wrath of a legal system he doesn't understand when he's tried for murder. Can a child commit the crime of an adult?
Factual drama following the story of Ray, a young boy on the cusp of adolescence who finds himself standing trial for murder.
Moving into his mother Veronica's home to be with his elder brother Nathan, 23, Ray witnesses an argument which escalates into a violent axe attack perpetrated on his brother by his mum's partner Scott.
Although arrested and tried, Scott is acquitted and soon returns to live in the family home. Family life begins to deteriorate, with Nathan becoming reclusive and neglectful of his health and appearance while Ray increasingly takes on the role of carer - for Nathan, for his mother, and for his siblings, Veronica and Scott's young children. One night, when the boys hear that Scott has threatened to get the axe again, the brothers carry out an attack on Scott, brutally murdering him.
After the murder, the brothers are arrested and charged with Scott's murder. Nathan and Ray are separated as they enter the judicial system and meet their respective legal teams. Ray's team, headed up by defence Barrister Kerry Stephens, oversees Ray's placement in a foster home (owing to his age and status as a 'looked after child') to await the trail where he will be tried in an adult court alongside his brother.
Kerry and her team prepare Ray's defence - they will argue that Ray lost control on the night of the attack and should be convicted of manslaughter rather than murder. As the trial begins, they discover that Nathan's defence team have decided that Nathan should not testify, leaving Ray alone to take the stand and give evidence in his own defence.
Clips

Credits
| Role | Contributor |
| --- | --- |
| Ray | Billy Barratt |
| Kerry | Michelle Fairley |
| Pete | Owen McDonnell |
| William Ramsden | Tom Burke |
| Dr Johann Keaton | Stephen Campbell Moore |
| Nathan | James Tarpey |
| Scott | Shaun Dingwall |
| Veronica | Debbie Honeywood |
| Amber Lyndon | Natasha Joseph |
| Jamie | Tobi Bamtefa |
| Gary | Matthew Aubrey |
| Grace | Angela Wynter |
| Judge Walden | Stephen Boxer |
| Sergeant Lucas | Tina Harris |
| Kevin (Appropriate Adult) | Neal Barry |
| Pathologist | Nicholas Khan |
| Sam Delaney | Zita Sattar |
| Mike | Mark Straker |
| Tim | Jay Villiers |
| Fran | Heather Bleasdale |
| Jury Forewoman | Tor Clark |
| Clerk | Hasan Dixon |
| Liam | Buddy Skelton |
| Serena | Kirsten Wright |
| Christie | Zachary Barnfield |
| Composer | Adrian Johnston |
| Director of photography | Nick Cooke |
| Editor | Matthew Gray |
| Production Designer | Tom Bowyer |
| Director | Nick Holt |
| Writer | Sean Buckley |
| Producer | Elinor Day |
| Associate Producer | Sean Buckley |
| Line Producer | Bridget Goodman |
| Executive Producer | Katie McAleese |
| Executive Producer | Karen Wilson |
| Executive Producer | Nick Holt |
| Executive Producer | Lucy Richer |
| Executive Producer | Ayela Butt |
| Executive Producer | Mark Raphael |
| Production Company | Kudos Film & Television Company |
| Production Company | 72 Films |