Main content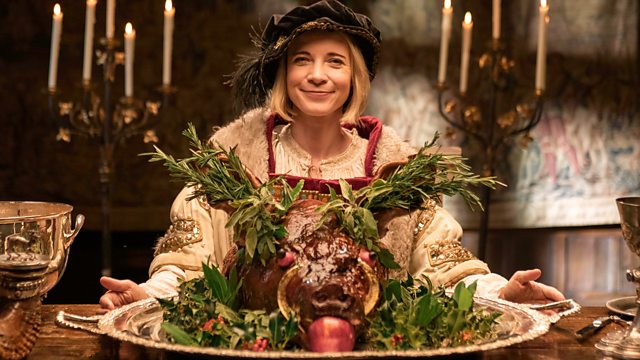 A Merry Tudor Christmas with Lucy Worsley
Recreating festivities from Henry VIII's era, Lucy Worsley dresses, eats, drinks, sings and parties like it is 500 years ago - discovering long-lost traditions as well as familiar customs.
Lucy Worsley recreates how Christmas was celebrated during the age of Henry VIII – eating, drinking, singing, dancing and partying like people did 500 years ago. She is getting into Tudor clothes and inside Tudor minds - discovering the forerunners of some of the Christmas customs we still enjoy today and exploring why other festive traditions fell out of favour.
With the help of food historian Annie Gray, she prepares two royal feasts in the kitchens of Hampton Court Palace. For the king's Christmas dinner, Lucy - in full royal costume as Henry - tucks into stuffed boar's head, served to her by a choir singing its praises. She also tastes Tudor versions of the mince pies and Christmas cakes we still enjoy today - and munches on a marzipan chess set and some 16th-century sweets.
Lucy joins Tudor carol-singers to perform a festive hit penned by Henry VIII himself, and watches a forerunner of the Royal Variety Show, complete with dancing stags and swordplay. She immerses herself in the rabble-rousing fun created by the Lord of Misrule, an anarchic ancestor of our Father Christmas.
Lucy also explores how ordinary Tudors liked to enjoy themselves - and why the holidays were such a welcome break. She discovers how many people relied on charity to see them through the winter - and why Christmas was the only time it was legal to play most games and sports! Lucy decks her Tudor hall with traditional decorations, tastes the ale and mead which were popular Christmas drinks for humble folk, and brings back to life a strange and spooky Christmas custom which is a prototype of Halloween trick or treating.
Lucy is also thrilled to encounter priceless records in the National Archives, which show exactly how much Henry VIII's lavish Christmas celebrations cost. She discovers that the Tudor version of Christmas gift-giving was an occasion for very big spending. She even receives some of the presents that were offered to Henry VIII in 1532 - which ranged from money and bling to a brace of greyhounds and a six foot boar spear from Anne Boleyn.
Alongside all the partying, Tudor Christmas was more focused on religion than it is for many people today. Lucy reminds us how the celebrations followed a month's fasting during Advent and visits one of the ornate royal chapels where Henry himself worshipped, exploring how the religious Reformation he unleashed would change Christmas forever.
Across the programme, she traces Henry's evolution from handsome prince to ill-tempered old man - but reveals that two of his queens nonetheless found a way of enjoying Christmas together.
This Yuletide treat was filmed at some of the UK's most historic and beautiful locations, including Hever Castle, Ingatestone Hall, Penshurst Place and the centuries-old farm buildings of the Weald and Downland Museum. Contributors include historic performance specialist Charlotte Ewart, early music specialists Passamezzo, Professors Maria Hayward and Meg Twycross, and the chaplain to Her Majesty's Chapel Royal at Hampton Court, Father Anthony Howe.
On each of the traditional twelve days of Christmas, Lucy explores a different aspect of the season, uncovering fresh insights into the Tudor mind and casting a captivating new light on Christmas itself.
Clips

Credits
| Role | Contributor |
| --- | --- |
| Presenter | Lucy Worsley |
| Director | Peter Sweasey |
| Production Company | Burning Bright Productions |
| Executive Producer | Susanne Curran |
Featured in...
2020's Christmas TV on the BBC.

Exploring the history and traditions of the festive season.

Festive telly treats from 2019.