Main content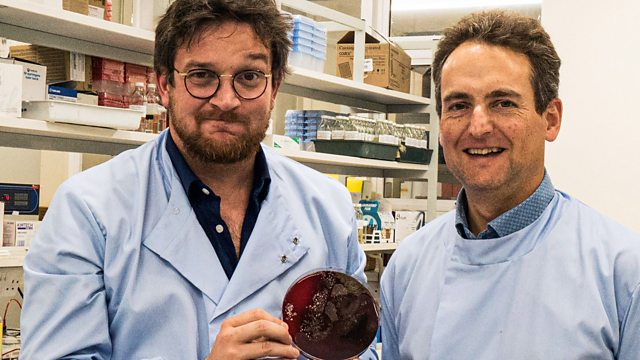 Professor Ben Garrod reveals how skin protects vertebrates from extremes of temperature, the harmful effect of UV and a host of living organisms that want to get in.
How does a giraffe stay cool? What are different porcupine quills teaching us about medicine? What makes some people more likely to be bitten by mosquitoes than others? All the answers and more lie in the secrets of how skin protects us from a hostile world. When it comes to protecting our delicate insides, skin is like an external suit of armour. Animals have adapted ways of protecting themselves from everything a hostile planet has to throw at them.
Hippos produce their own sunscreen to protect themselves against the dangers of UV rays from the sun. Only recently discovered by science, is the truth behind a giraffe's spots, a network of blood vessels that they use to cool themselves down in the blazing heat of the African savannah.
Professor Ben Garrod discovers how. He tests the limitations of human skin by plunging himself into a deep freezer to demonstrate how human skin just isn't well insulated enough to cope with extreme cold. He discovers how human skin is an entire ecosystem for bugs and bacteria as he comes face to face with what is growing on his skin. And he gets bitten by mosquitoes and stable flies as he learns that disease-carrying insects have evolved to pierce everything from human skin to horse hide.
Clips

Music Played
Timings (where shown) are from the start of the programme in hours and minutes
Credits
| Role | Contributor |
| --- | --- |
| Presenter | Ben Garrod |
| Executive Producer | Doug Mackay-Hope |
| Series Producer | Reema Lorford |
| Producer | Honor Peters |