Main content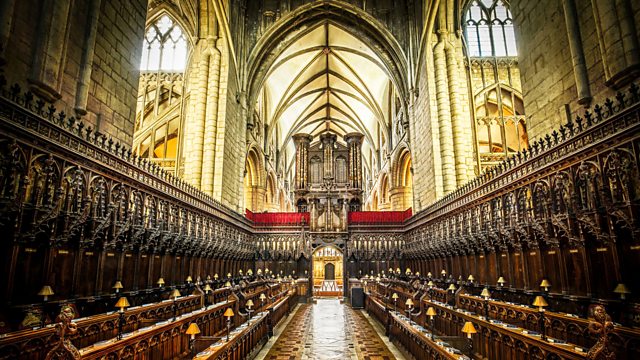 World Premiere of Christmas Music
The 2019 Three Choirs Festival presents the world premiere of Bob Chilcott's Christmas Oratorio, and music by Handl, Victoria and Britten.
The Three Choirs Festival is the oldest non-competitive music festival in the world, and in their 2019 season, Bob Chilcott's Christmas Oratorio received its world premiere. The performance included distinguished soloists such as Dame Sarah Connolly, and the festival's artistic director Adrian Partington conducted singers from the choirs of Gloucester, Hereford and Worcester cathedrals. The festival commissioned this work from Chilcott, and it is a retelling of the Christmas story using texts from the Gospels of St Luke and St Matthew, intertwined with poetry and four hymns. The concert also includes Britten's festive Ceremony of Carols. It was written whilst the composer journeyed by boat between the United States and England in 1942. A very dangerous crossing to make, whilst German U boats patrolled the Atlantic Ocean.
Recorded at Gloucester Cathedral in August, and presented by Nicola Heywood Thomas.
Jacobus Handl: Impetum inimicorum
Tomás Luis de Victoria: Leatatus sum
Benjamin Britten: A Ceremony of Carols
8.08pm
Interval Music (from CD)
Bach: Christmas Oratorio, BWV248 (Now you are truly revenged on the host of your enemies)
The Amsterdam Baroque Orchestra and Choir
Ton Koopman (director)
Bob Chilcott
St John Passion (There is a green hill far away)
Wells Cathedral Choir
Voluntary Choir
Chaconne Brass
Jonathan Vaughn (organ)
Matthew Owens (conductor)
Bob Chilcott
The Advent Candle
Commotio
Tanya Houghton (harp)
Matthew Berry (conductor)
8.30pm
Bob Chilcott: Christmas Oratorio
Mary: Sarah Connolly (soprano)
Evangelist: Nick Pritchard (tenor)
Simeon: Neal Davies (baritone)
Gabriel: Ed Rimmer (vocalist)
Angel: Rachel Roper (vocalist)
Wise Man: Deryck Webb (vocalist)
Wise Man: Matthew Clark (vocalist)
Wise Man: Nick Perfect (vocalist)
Herod: Greg Bannan (vocalist)
Lay Clerks of the Three Cathedral Choirs
Choristers of the Three Cathedral Choirs
Philharmonia Players
Heidi Krutzen (harp)
Jonathan Hope (organ)
Adrian Partington (conductor)
Produced by Luke Whitlock
Featured in...
We broadcast more live and specially-recorded concerts and opera than any other station.