Main content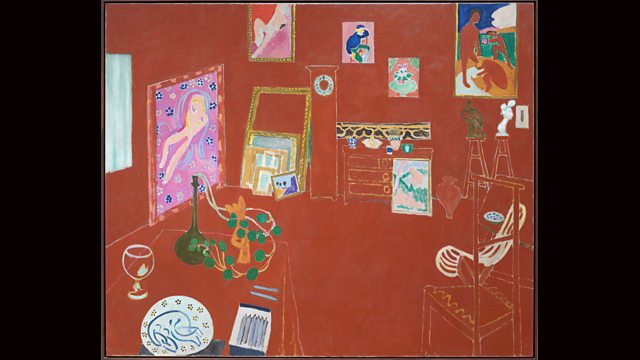 In this final edition, the series presenter, art critic Alastair Sooke makes his own choice from MoMA's permanent collection.
Over the last 29 editions art critic Alastair Sooke, in the company of some of the leading creatives of our age, has dived into the stunning works in the Museum of Modern Art's collection, whilst exploring what it really means "to see" art.
In this final edition, Alastair makes his own selection. And, as with several of his guests in the series he goes for two choices. The first, a painting that bowled him over as a young visitor to MoMA, Matisse's Red Studio, but what will the second be, and has making this series changed the way he sees art?
Producer: Tom Alban
Main Image:
Henri Matisse, The Red Studio, 1911. Oil on canvas, 71 1/4" x 7' 2 1/4" (181 x 219.1 cm). Mrs. Simon Guggenheim Fund. Museum of Modern Art, NY, 8.1949.© Succession H. Matisse/ DACS 2019
More episodes
Next
You are at the last episode
Selected by the series presenter and art critic Alastair Sooke
What did we find out when a cosmologist looked at Van Gogh's The Starry Night?
Podcast
Leading creative thinkers choose an artwork from MoMA and talk about how it inspires them.