Main content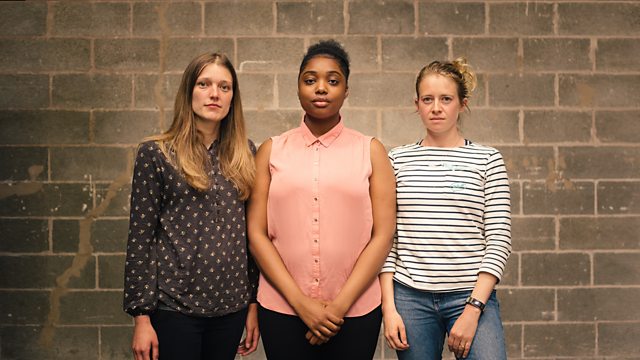 Chekhov as never before. Three 21st-century sisters with varying degrees of D/deafness. Written by Polly Thomas and Jenny Sealey.
A radical reworking of Anton Chekhov's classic Three Sisters for BBC Radio 4, written and directed by Jenny Sealey and Polly Thomas.
On an isolated farm in 21st century Yorkshire, three sisters struggle to survive on a financially draining farm, with intermittent internet, and a pervading sense of dislocation from the real world.
With the titular three sisters played by three Deaf actors – Genevieve Barr, Lara Steward and Alexandra James – Three Sisters Rewired breaks new ground, reimagining the story through the prism of deafness, exploring isolation and stagnation in the modern world.
Three Sisters Rewired is about how we listen or don't listen, how whether we are deaf or not, we all have selective communication, closing our ears and eyes to the world around us.
The cast is a mix of Deaf, disabled and non-disabled actors. The flute is played by Deaf flautist, Ruth Montgomery, who taught herself to play through the vibrations of the instrument. Three Sisters Rewired is another bold contemporary audio drama from the combined talents of the Graeae Theatre and Naked Productions team - Chekhov as never before.
Episode 1
We meet Olivia, Maisie and Iris on Iris' 20th birthday. Olivia, the eldest, is single and a teacher in an all girls school; Maisie works the farm, and is unhappily married to local teacher, Kevin; Iris is a vlogger, hoping army boy Tyrone – or maybe Sean - will take her to the bright lights of London. Angus, their brother, is a thwarted Quietism academic, trapped by his love for local small- town girl Natalie.
Cast
Olivia………………Genevieve Barr
Maisie ………………..Lara Steward
Iris…………………Alexandra James
Angus…………….Jonathan Keeble
Natalie……………Steph Lacey
Anna………………Kay Purcell
Victoria……………Alexandra Mathie
Tyrone…………….Tachia Newall
Sean………………Chris Jack
Original music by Alice Trueman
Flute played by Ruth Montgomery
Written and directed by Polly Thomas and Jenny Sealey, inspired by Anton Chekhov's Three Sisters
Sound design and produced by Eloise Whitmore
Sign Language Interpreters – Jude Mahon, Beverly Roberts, Kate Labno, Jan Guest
Executive Producer - Jeremy Mortimer
A Naked/Graeae Theatre production for BBC Radio 4
On radio
More episodes
Previous
You are at the first episode