Main content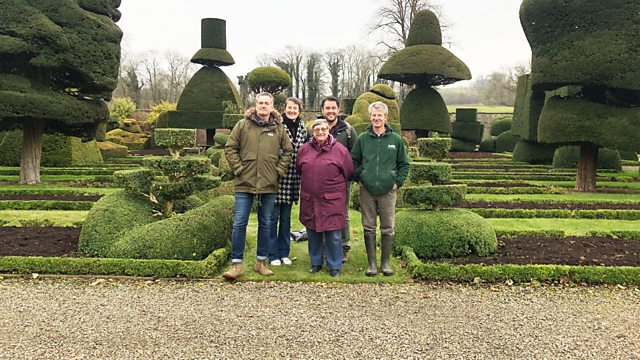 Levens Hall: Correspondence Edition
Kathy Clugston and the team are at Levens Hall in the Lake District for a correspondence edition of the show.
Kathy Clugston and the team are at Levens Hall in the Lake District for a correspondence edition. Matthew Wilson, James Wong and Christine Walkden are riffling through the GQT postbag and in box to answer questions sent in by listeners.
This week, the panellists discuss saving a Crown of Thorns, keeping an ornamental pear tree from overgrowing, and the best fruit trees for a Christmas present.
The team are joined by Head Gardener of Levens Hall, Chris Crowder, who shows them the impressive 300-year-old topiary.
Producer: Dan Cocker
Assistant Producer: Rosie Merotra
A Somethin' Else production for BBC Radio 4
Plant List
Questions and time codes are below. Where applicable plant names are listed
Q – I have an 8m (26.25ft) ornamental pear tree. How do I keep it this height so it doesn't interfere with the telegraph pole cables above it?
(4 minutes 40 seconds)
Matthew – Pyrus calleryana 'Chanticleer'
Q – I have a 4ft (1.2m) retaining wall at the top of my garden and I would like to grow an Espalier apple or pear tree against it and keep it at 4ft. Is there a way I can prune the tree to keep it at this height or does the panel have any ideas for anything else I can grow here?
(8 minutes 45 seconds)
Q – I have been growing an avocado plant (Persea americana) since July in a cup of water on the windowsill. It has now grown a stem, roots and four or five leaves. When, and how, should I transfer it from water to soil?
(11 minutes 30 seconds)  
Q – My 15-year-old Crown of Thorns (Euphorbia milii) is losing leaves at a rate faster than new ones are growing. Is there any advice the panel can give to save it?
(14 minutes 25 seconds)
Q – Four years ago, I planted a bare-root Hornbeam hedge (Carpinus betulus) running up to a 60ft tall (18.3m) Scots Pine (Pinus sylvestris). However, by the tree, the hornbeam hasn't grown as well. How can I encourage it to grow so there isn't a hole in my hedge?
(18 minutes 57 seconds)
Q – We have a 50 year-old and 30 feet high (9.1m) Himalayan cotoneaster (Cotoneaster simonsii). When pruning, if I cut back in to the brown wood, is it likely to re-sprout?
(21 minutes 23 seconds)
Q – How successful does the panel think we will be in moving our new soft fruit bushes, row of autumn raspberries (Rubus idaeus) and our infant asparagus (Asparagus officinalis) bed from one allotment plot to another?
(23 minutes 40 seconds)
Q – What's the best thing to grow now that my runner beans have finished producing?
(26 minutes 54 seconds)
Christine – Pleached limes (Tilia × europaea 'Pallida')
White water-lily (Nymphaea alba)
Q – This summer I planted two Hostas: a 'June' (Tardiana) and a 'Blue Mouse Ears'. But by autumn, the 'Blue Mouse Ears' had totally vanished and the 'June' was brown and wilted. I've discovered animal excrement around where they were planted. Could an animal be the culprit?
(31 minutes 48 seconds)
Q – My wife and I want to create a cactus bed in our garden. The site we will use is an existing raised bed 2m wide and 5m long (6.6ft x 16.4ft) on a south-facing slope which gets no shade. What advice can the panel give us? 
(33 minutes 14 seconds)
Christine – Yucca
Pseudopanax
Matthew – Chamaerops
Aloe striatula
Opuntia (Prickly pear)
James – Aloe polyphylla
Q – My 3-year-old niece loves being in the garden. For Christmas, I would like to buy her a fruit tree. Which tree would the panel recommend?
(38 minutes)
Christine – Apple (Malus domestica)
M27 or M9
Matthew – Apricot (Prunus armeniaca) 
James – Brown Turkey (Ficus carica)
Maynard cherry (Prunus cerasus)