Main content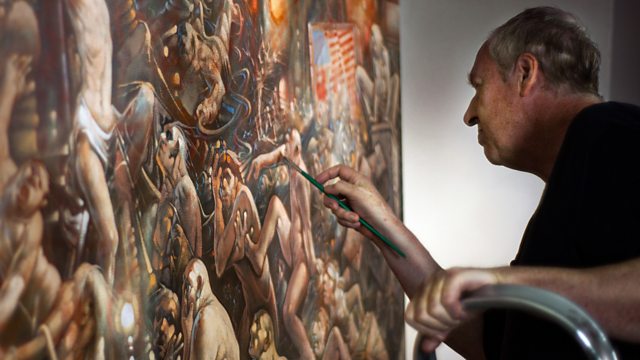 Prophecy
An intimate exploration of the motives and techniques behind each stroke of paint as Peter Howson creates his monumental and apocalyptic oil painting Prophecy.
'Creating is an incredible journey that can open the door to a new universe.'
A rare, intimate exploration of a single oil painting and the first major film to reveal the motive and techniques behind each stroke of paint as the artist creates. The audience is plunged into the artist's darkly comic obsessive mind, as from what starts as a blank canvas emerges Peter Howson's monumental oil painting Prophecy.
Howson is a former official British war artist who works from his imagination. He draws inspiration from world unrest, religious beliefs and mythology, utilizing classical technical skills from his heroes, Goya, Da Vinci, Bruegel and El Greco.
The film sticks deliberately and rigorously to the framework of the painting itself. We observe the canvas as it is made and mounted onto a wooden stretcher and the struggle and turbulence of its creation in Howson's Glasgow studio. We follow its journey through the commercial art world, across the Atlantic to New York for its first public exhibition, the sale and its final destination on the wall of a private art collector in London's Canary Wharf.
Inventive filming techniques and hypnotic camera work make the invisible, visible, revealing how the unseen images in the artist's head are transferred to canvas. We discover what it takes to create a large oil painting, the techniques, the materials, the skills, the thinking behind creation, the intentions and the difficulties that push Howson to achieve this ambitious, masterful and detailed 6ft x 8ft canvas.