Main content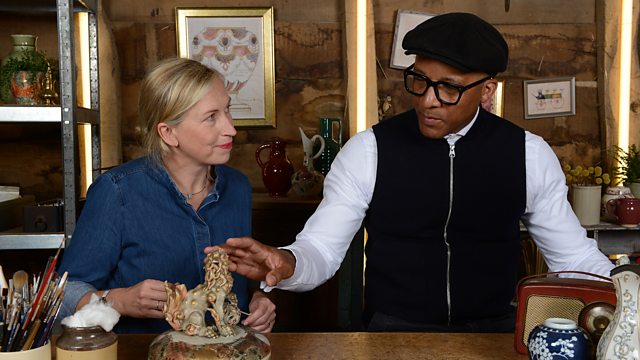 The team take on a broken tape-recording machine, a costume that once belonged to a 1950s strong woman and a broken wind-up car.
Jay Blades and the team bring three treasured family heirlooms, and the memories they hold, back to life.
First into the barn today is John Mears with a reel-to-reel tape-recording machine. He's pinned his hopes on radio and electronics expert Mark Stuckey being able to cajole this now-silent device to play the treasured recordings of his family's musical get togethers. John has wonderful memories of his father and him performing at family parties, which he would love to hear again. However, with the machine malfunctioning there's a real risk of it wiping the recordings completely - a risk John cannot take. Mark carefully dismantles the gadget, cleans each delicate component and eventually identifies the faults. John is reunited with the machine and is overcome when he hears his father's voice after so many years.
Next to arrive is Triona Palmer, who is calling upon the needlework skills of Sara Dennis to help put the sparkle back into an item with a glamourous past. The beautiful green sequinned stage costume belonged to Triona's dear friend and inspiration: a performer called Joan Rhodes - aka The World's Strongest Woman! Joan was an international sensation back in the 50s and 60s with her unique act showcasing her formidable strength. The costume was left to Triona and is very much cherished. However, it is now moulting sequins by the dozen, leaving patches exposed and it's in need of a careful clean. Armed with her needle and thread, Sara flies into action, sewing each tiny replacement sequin back into place and reinstating the sparkle!
The final visitor racing towards the workshop is Julian Ma. He has brought something in desperate need of an MOT, courtesy of mechanical guru Steve Fletcher. The car was a gift from his rocket scientist father when he was a boy and provided hours of fascination but the car is kaput. Steve rolls up his sleeves and gets stuck into some miniature mechanics.