Main content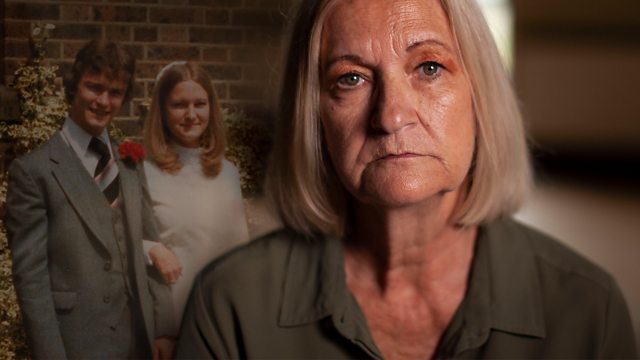 The Case of Sally Challen
Sally Challen's appeal against the conviction of the murder of her husband. With access to Sally, friends and family, and the legal teams on both sides of this landmark case.
In 2010 Surrey mother-of–two Sally Challen bludgeoned her husband Richard to death as he sat eating lunch at the kitchen table. She covered his body in a pair of old curtains, a note that said "I love you" and was later arrested at the notorious suicide spot of Beachy Head. No one at her trial, including her close family and friends, were surprised when the jury found her unanimously guilty of murder.
This year, Sally's widely reported appeal against her conviction gripped the newspapers and the nation. Sally's new defence lawyers argued that she was the victim of Richard's "coercive control", a newly understood type of psychological abuse and that she should be in prison for manslaughter, not murder. It is the first time that coercive control has been presented to the courts as a partial defence to murder.
In the months leading up to the appeal, filmmakers Rowan Deacon and Lizzie Kempton were granted access to Sally herself as well as the couples' closest family and friends, most of whom have not spoken publically before. The film combines their frank testimony with excusive behind-the-scenes footage of the legal teams on both sides of appeal to tell the story of this complex, timely and captivating case in full for the first time.
The film begins with Sally's original trial in 2011 which culminated in the devastating evidence given by Sally herself. The dramatic events at trial are retold by a cast of witnesses and the film unearths police evidence, including Sally's custody interview, recorded just 24 hours after the killing and which contained a confession that was disastrous to Sally's defence and leaves the viewer in no doubt as to why Sally was convicted.
As Sally begins her 22-year life sentence at Bronzefield prison her niece Dalla has a sense that the whole story hadn't come out at trial. She gets in touch with Justice for Women, a organisation who support women who've been imprisoned for killing as a response to domestic violence. Justice for Women founder and human rights lawyer Harriet Wistrich has initial reservations, but agrees to take on the case. Harriet's first move is to start talking to Sally in prison and over a period of months they put together a new witness statement which tells the story of Sally's life and her 31-year marriage to Richard in full.
The film brings Sally's witness statement to life with a wealth of richly nostalgic and often unsettling family archive. What begins as a suburban Romeo and Juliet story gradually darkens and sours. Friends of both Sally and Richard, and close family including including Sally's four older brothers and Sally's son David, give candid accounts of this wealthy, outwardly succesful marriage unravelling. What they didn't know is often as revealing as what they did know.
The film interweaves this story of a marriage that held dark secrets with a behind-the-scenes legal narrative. With access to defence and prosecution, the film offers a forensic examination of how the legal system grapples with such a complex case. While Sally's defence team lead by Harriet and Clare Wade, QC, seek out the expert evidence of a domestic abuse professional and instruct a new forensic psychiatrist; the crown prosecutors rely on the evidence that was used to convict Sally in the first place, arguing that the facts of the marriage have already been put before a jury and that, on it's own, coercive control is not a defence to murder.
As the appeal date grows closer, Sally's youngest son David juggles his grief for his father with a compulsion to do everything he can to rebuild what's left of his family and get his mum out of prison. Meanwhile, the legal teams try to untangle urgent legal dilemmas: Is Sally's confession that she brought the hammer to the scene of the crime fatal to her defence? Was Richard's behaviour provocation for the killing and what effect did it have on Sally's mental health? With only one side of the marriage left to tell the story, can the law ever get to the truth?
In the build up to the appeal the odds are stacked against Sally – less than 10% of applications for appeal against conviction are successful – and the cameras continue to follow the action inside Royal Courts of Justice where three of the most senior judges in the country wrestle with the evidence and come to a final decision.
Clips

Music Played
Timings (where shown) are from the start of the programme in hours and minutes
00:12

Madeleine Peyroux

Between the Bars

00:22

Daryl Hall & John Oates

You Make My Dreams
Credits
| Role | Contributor |
| --- | --- |
| Director | Lizzie Kempton |
| Director | Rowan Deacon |
| Executive Producer | Sophie Leonard |
| Executive Producer | Arthur Cary |
| Executive Producer | Clare Paterson |
| Production Company | Minnow Films |