Main content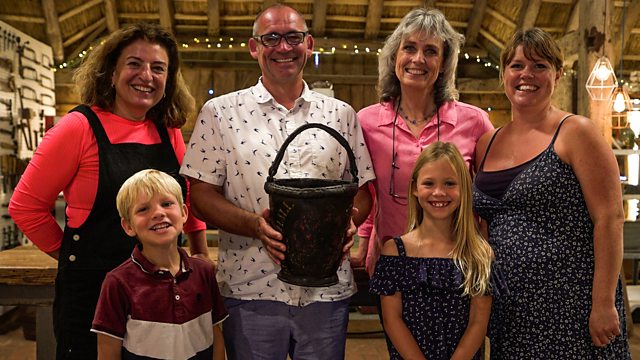 The team tackle a shattered gold ring, a dilapidated fire bucket and a jewellery box with a puzzle to solve.
Jay Blades and the team bring three treasured family heirlooms, and the memories they hold, back to life.
First to be welcomed into the barn is Paul Weeks, accompanied by his fiancé, Angela. They are hoping goldsmith Richard Talman can repair a small but very precious family heirloom: A 170-year-old gold ring, with intricate detailing, that is currently in pieces. It belonged to Paul's great-great-grandfather, who emigrated to Australia aged 20 in 1849. He and his new wife had only be married for three days, when they embarked on an intrepid adventure to find their fortune, joining the Australian Gold Rush of the 1850s. The ring was made from the first and only gold nuggets they discovered. The once-ornate ring was embossed with a pickaxe and a hammer motif, sadly this was damaged when it split in two. No challenge is too small for goldsmith Richard, as he painstakingly makes, breaks and remakes the ring, returning it to its former glory.
Emily Ray arrives hoping antiques restoration expert Will Kirk can fix a jewellery box bought in Italy by her grandad as a gift for her grandmother. Sadly the wooden box was broken many years ago, and has been stored in the loft for safe keeping since the 1960s. Emily wants to get the dilapidated box repaired for her Nan, who couldn't bear to part with the precious keepsake because of the memories it holds. As Will gets the box back to his bench and starts to dismantle it, he discovers something rather intriguing... a secret compartment. Will sets to work cracking the code and restoring the puzzle box so he can share its secrets with owner Emily.
Finally, leather expert Suzie Fletcher and painting conservator Lucia Scalisi join forces to rescue a 200-year-old fire bucket, which is on the brink of collapse. Mary Bird from Weymouth has brought in the bucket hoping to surprise her husband Mark. The bucket has great sentimental value, as it belonged to Mark's late dad John, a firefighter. John was gifted the historic artefact after quelling a fire in an Essex pub. Mark is very proud of his father and cherishes the bucket despite its crumbling and diminished state. Now Suzie and Lucia are tasked with painstakingly salvaging the old paintwork and leather to achieve the near impossible.