Main content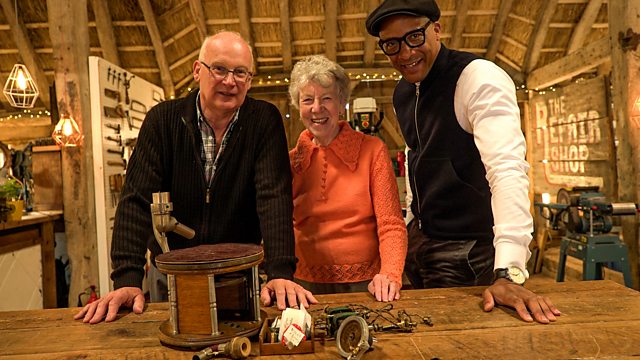 The team take on a smashed piggy bank, a homemade gramophone that has lost its voice and a tarnished 19th-century ceremonial helmet.
Jay Blades and the team bring three treasured family heirlooms, and the memories they hold, back to life.
First into the workshop is Margaret Brier from Yorkshire. She's hoping electronics wizard Mark Stuckey can bring an old homemade gramophone back to life. Now little more than a box of bits, the gramophone was built by Margaret's grandfather Harry Bates in the late 1800s. Harry was ahead of his time, a natural-born engineer with a talent for fixing anything, known in Yorkshire as a 'knackler'. Mark calls in help from the Repair Shop's very own 'jack of all trades', Dom Chinea, to remake the missing papier-mâché horn. Meanwhile, Mark works on reviving the flagging gramophone motor. Together the duo restore the voice of this silent gramophone and get it playing once more.
The next visitor to the barn is 19-year-old Charlotte Hughes, also from Yorkshire. She's hoping ceramics expert Kirsten Ramsay can help her atone for an accident that left her mother's piggy bank smashed and shattered into pieces. A well-intentioned attempt to mend it has left unsightly cracks and a gaping hole in piggy's cheek. Along the way he's also lost his cork and trotters. Charlotte is desperate to make it up to her mum, Liz, who was understandably upset when she discovered this important memento from childhood was broken. Ceramics restorer Kirsten Ramsey has her work cut out to undo the old repairs and stabilise the cracks. Working her magic to perfect the piggy bank in time for Liz and Charlotte to return to collect it.
Finally, Jay Blades and Brenton West welcome Teresa Oates, and her partner, Ron, to the barn. Theresa wants silversmith Brenton to restore an antique to help someone very dear to her. The couple have brought in a Prussian helmet, the 19th-century German ceremonial helmet is a family heirloom. Teresa's dad, Edward, was a D-Day veteran and soldier during the Allied occupation. He brought the tarnished memento home when he returned from service and Teresa and Ron are hoping that by restoring the helmet they may help Edward (who is suffering from dementia) refresh his memory. Leather expert Suzie Fletcher steps in to create a new skull and chin strap, while Brenton works to revitalize the rusting and tarnished helmet, achieving a stunning transformation.