Main content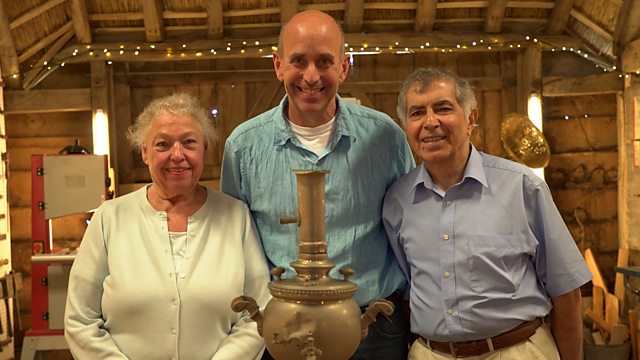 The team take on a family butcher's trusty sausage-making machine, a treasured Edwardian postcard album and an Iraqi hot water urn, known as a samovar.
Jay Blades and the team bring three treasured family heirlooms, and the memories they hold, back to life.
A former butcher brings his defunct sausage-making machine to the barn for Dominic Chinea, the resident metal work expert. It was once an essential bit of kit in owner Marcus Harding's dad's butcher's shop. A teenage Marcus was regularly tasked with sausage filling and became a dab hand. However when the shop closed, the machine was banished to the shed, where dust and rust has brought it to a grinding halt. This is a first for Dom and he's eager to roll up his sleeves and give the vintage machine a total overhaul. The rusted internal parts are too delicate for sandblasting so Dom comes up with a scientific solution, using an electrolysis machine. Once reassembled and given a new lick of paint this contraption is put to the test, when Marcus shares his family recipe and it's bangers for the Repair Shop team lunch!
Mary Murphy from Stafford arrives with a unique and fragile historical archive. It is in desperate need of expert intervention by bookbinder Chris Shaw. This crumbling Edwardian album is full of treasured family postcards sent by Mary's grandma to her sisters. Each precious card documents the young woman's day-to-day life and adventures and is treasured by Mary's family. Chris works meticulously by hand to display each of the cards in windowed pages and incorporates the original album covers with a sturdy new spine. Mary and her sister are over the moon with the results.
And silversmith Brenton West transforms a cherished family heirloom that was a wedding gift over half a century ago. The hot water urn, known as a samovar, was one of the few belongings that accompanied Nawzad and Karen when they fled Iraq with their young family. Brenton transforms the dented, tarnished urn and gets it back in action.