Main content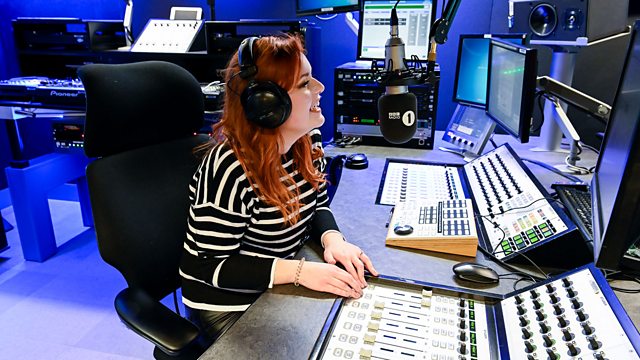 Voting Advice, DJ Lucy Edwards and Doping
A High Court referred to the voting system endured by blind and visually impaired people as "a parody of the electoral process". We analyse what to expect in the polling booth.
In May the High Court ruled that the use of Tactile Voting Devices was unlawful. Blind and VI people are regularly confronted with polling staff who do not seem to realise the rules, so ahead of the General Election we discuss what you're entitled to with Ailsa Irvine from the Electoral Commission. We also hear from Rachael Andrews who brought the case on the basis that her vote as a blind person was not secret and independent.
Lucy Edwards is no stranger to In Touch, she's a You Tuber, a reporter and now - Radio One's first blind DJ. She tells us about making a piece of radio history as experienced music DJ Jill Barkley gives her a few tips about navigating the wheels of steel without sight.
And as a ban on Russian athletes competing in world sport is renewed, Mani Djazmi guides us through the world of drugs in disabled sport - and the thorny question of whether unscrupulous coaches can sometimes make blind sportsmen and women unwittingly cheat.
Presented by Peter White
Produced by Kevin Core
Last on
In Touch Transcript - Voting advice, DJ Lucy Edwards and Doping
Downloaded from www.bbc.co.uk/radio4
THE ATTACHED TRANSCRIPT WAS TYPED FROM A RECORDING AND NOT COPIED FROM AN ORIGINAL SCRIPT.  BECAUSE OF THE RISK OF MISHEARING AND THE DIFFICULTY IN SOME CASES OF IDENTIFYING INDIVIDUAL SPEAKERS, THE BBC CANNOT VOUCH FOR ITS COMPLETE ACCURACY.
TX:  10.12.2019  2040-2100
PRESENTER:          PETER WHITE
PRODUCER:            KEVIN CORE
White
Good evening.  Sport, music, politics – they all feature in tonight's programme.  In the fallout from the latest four-year ban on Russia's athletes where does cheating figure in disability sport?  And Radio 1 is getting its first blind DJ.
Music
She's a Katy Perry fan and as football crowds now like to chant – she's one of our own.
Casting your vote secretly and independently is taken for granted in the UK as a democratic right.  But, if past experience is anything to go by, on Thursday some visually impaired people will find themselves unable to do either – and I'm no exception.  The last time I tried to vote it resulted in a long argument with the presiding officer.
Well earlier this year, a High Court judge ruled that tactile voting devices, or TVDs as they're known, which are templates with signature sized compartments where you can mark your preferred candidate, are unlawful.  The High Court said – "A device that does no more than enable blind voters to identify where on a ballot paper the cross can be marked, without being able to distinguish between one candidate from another, doesn't in any realistic sense enable that person to vote."  My own run-in was with someone who simply didn't understand you can take someone into the polling booth with you to help you vote. 
The frustration is that in the past we only hear about these cases after they've happened.  So, we thought we'd make it absolutely clear what you can expect before the event.  Well, I've been talking to Ailsa Irvine, she's director of Electoral and Administrative Guidance at the Electoral Commission.
So, precisely what are visually impaired voters entitled to?
Irvine
So, when they go to the polling station on Thursday, they can expect to see a large print copy of ballot paper on the wall.  They can also be provided with a large print hand held copy of the ballot paper that they can take into the polling booth with them, that they can refer to when marking their ballot paper.  There's also the tactile voting device, that people can use once they know who the candidates are on the ballot paper and they can also take someone with them to help them with the voting process.  Or they can ask the presiding officer, the person in charge of the polling station, to go in and help them.
White
So, to be clear, particularly about the tactile voting device, or TVD, although they've been declared unlawful it is still necessary for them to be available at polling stations until there's a viable alternative – is that right?
Irvine
Yes, that's right.  What the ruling does is it says that while the law needs to be changed in this area at the moment, they haven't stuck that provision out of the law, so returning officers are still required to provide them for every polling station.  So, I think, while they're not by any means a perfect solution some people do find them helpful, so I think it's good that they are still provided at this stage until further improvements can be made.
White
What's been happening since we last spoke to you on the programme, which was around the time the election was called, to make sure that things go as smoothly as possible on the day at the polling station?
Irvine
So, we've been continuing to work closely with local authorities, who are responsible for setting up polling stations and staffing them and training the staff for polling stations, we've been working with them to provide them with guidance and training materials, so that they give the best service possible to all electors on polling day.  As part of that, one thing that we've done is we've produced a video with the RNIB talking about a real elector's experience at the polling station, so that polling station staff can understand the kind of things that makes someone's experience good and what kinds of things they should be doing to try to make things even better.
White
And how sure are you that this information can trickle down to all the polling stations in the country because there are thousands of them aren't there?
Irvine
Yeah, absolutely, there are tens of thousands of polling stations literally across the country with hundreds of thousands of temporary staff, so it is a big exercise.  But I think we know that local authorities are taking this very seriously and want to do everything they can to provide a good service.
White
And if things go wrong on the day, as they could have done for me if I hadn't known what I was talking about, is there anything you can do to make sure you do get to cast your vote in the way you want to?
Irvine
Yeah, I mean I think it's unacceptable for anyone not to have a good experience when they're voting and that's something that really concerns to me to hear that.  The first thing they should do is contact their local council because they are the ones that are responsible for running the process on the ground and they're the ones who'll be able to take action to make sure that things can be rectified and people can cast their votes.  We have a duty to report on the election, so we'll be reporting after the poll and that's a good opportunity for us to hear feedback from people about what works well and what doesn't work well and that can help inform any recommendations that we can make to the government about how things can be improved for future polls.
White
Well, someone who has no need to be reminded of her rights is Rachael Andrews.  It was Rachael who brought that case which led to the High Court decision that tactile voting devices were unlawful and she explained to me why she'd gone to such lengths to change voting practice for blind people.
Andrews
To be honest, I'm 47 years old, I'm an independent autonomous adult and I feel that as a visually impaired person I should have a secret and independent ballot, just like somebody who's fully sighted should.  I'm not a child, I don't wish to rely on somebody to help me for everything and my democratic right is very important to me and I'd like that to be secret and independent, just as it would be for somebody who's fully sighted.
White
What are your plans for Thursday?
Andrews
Ah well, my plans for Thursday are to go along, as usual, and ask them if they have any better provisions, with regards to the judgement back in May, and see how we go.  I'm expecting situation normal, I'm afraid to say, which is an inaccessible TVD and somebody to have to help me vote for me.
White
So, you will be using the TVD but having someone to tell you where the names of the people are on the ballot.  Will they actually fill it in for you?
Andrews
Well, I've had problems in the past where I can't remember the order of the candidates, it's not supposed to be a memory test, and I'm never confident I've actually made my mark in the right place, so I've either got to chance it and say – have I voted for who I want to – or have somebody check it for me, which obviously means it's not a private and independent vote.
White
What would you like to see available the next time you come to vote?
Andrews
Personally, I think what would help me would be to have no reliance on the actual paper ballot at all.  I'm not saying get rid of it completely but I would say, in the long game, I'm hoping for something a little bit more technologically advanced.  The technology is there now to put something in place like, for example, telephone voting or some other digital type of voting or indeed online voting.  And I feel that that would not only help me, as a visually impaired person, but also the wider electorate who may not be able to get to the polling station for some reason or another.  And I think we need to really move on from reliance on pieces of paper and little bits of plastic, to be honest.
White
Rachael Andrews.
Well, Ailsa Irvine, what's your reaction to Rachael's view, how soon is she likely to see real change and what would the Electoral Commission see as practical?
Irvine
Well, I think, we definitely think that the time has come for the system to be improved and the system to be modernised.  One thing that we have been continually calling for is reform of electoral law, which will remove some of the prescription that's in there currently and will open things up to allow for more innovation and allow for new things to be trialled out, which should help to make the process more accessible for all electors.  I think using new technology, I think our democracy hasn't really kept up with the way people live their lives in a modern society, so I think there are inevitably things that will need to be looked at.  I think in doing that it will be really important to look at not only making things more accessible but also thinking about the security implications of any changes and making sure that anything that we do do doesn't risk compromising the high levels of public confidence that we have in our electoral administration process.
White
Ailsa Irvine.
The Cabinet Office told us the tactile voting device works well for some voters but not all, so, they're working with the RNIB to develop alternatives for the long term.
Well, hopefully, you won't have to tell us about your problems on election day but if you do there'll be details of how you can at the end of the programme.
Now, Russia is in trouble again with a renewed ban on its athletes because of allegations that it's failed to clamp down on the use of banned drugs.  But amongst all the controversy not much is being heard about the effects on disabled athletes.  But there is a problem there too and our sports reporter, Mani Djazmi, can tell us about it. 
Mani, first of all, there is one particular case, isn't there, involving a number of visually impaired Russians, just explain what happened.
Djazmi
Yes, two years ago, 10 Russian visually impaired powerlifters were found guilty of doping and banned.  Now that wouldn't affect the Paralympics because powerlifting isn't a visually impaired event there.  But what was interesting was that Grigory Rodchenkov, who led Russia's doping programme for 10 years before turning coat and becoming a whistle blower and he's now living in hiding, he was very critical of that, he said it was a disgrace because the blind powerlifters didn't know what they were being given.
White
Now that suggestion, as you say, was made – visually impaired athletes not knowing what they were given – how did that go down and what kind of sense does that make in the general kind of feel of sport?
Djazmi
Well, I mean, on the one hand the implication is that these are blind people that don't know what's going on, they're just opening wide and coaches are putting whatever they want into their mouths.  But, how many athletes around the world, sighted or blind, really know what they're taking into their bodies when they're presented by supplements and how many of them are trusting the doctors to give them the right thing?  I would venture to suggest that the vast majority of them fall into the latter category.
White
In any case, why would Russia think it was worth cheating at the Paralympics to win gold medals there?  I think some people might find that surprising.
Djazmi
Well, because the Olympics and by association the Paralympics are extremely important events in Russia, the Soviet Bloc as well – I went to Ukraine a couple of years ago to visit some disabled swimmers there and they try really, really hard to achieve.  And I think it's a throwback to the old communist bloc days when they couldn't really export much but they could export sporting prowess.  So, it's a prestigious thing.  And rather like in this country there's a great emotional attachment to disability and disabled people and it's a source of pride that their disabled people succeed and as well as just being a source of national and sporting pride that they win medals.
White
But presumably some blind people would find that pretty patronising, wouldn't they?
Djzami
No, I don't think so, I don't think so.  I think it's also a source of individual pride for the competitors themselves because the Paralympics and sport is often a way out of extreme hardship, it's a way to be noticed in the orphanage, for example, it's a way to have a profile and earn money and living and if this ban is a blanket ban, which it might be, then what do these blind and visually impaired people do for the next four years?
White
Now the President of Russia's Olympic Committee Stanislav Pozdnyakov, he called the sanctions inadequate, illogical and excessive.  Is he right in suggesting that cheating isn't just a Russian problem, either in the Olympics or the Paralympics for that matter?
Djazmi
Well, yeah, we know that cheating certainly isn't just a Russian problem.  In the Paralympics disabled athletes have quite a broad range of ways to cheat if they want to, far more than able-bodied athletes and they don't really need to dope if they don't want to.  Quite often they manipulate the classification process and it certainly isn't something that's restricted to Russians in any way at all.
White
Mani Djazmi, thanks very much.
White
Now, you may know the name Lucy Edwards, she's everywhere really, she's reported on In Touch, she's a You Tuber and she's about to become Radio 1's first blind DJ.  So, a bit of history being made there.
Lucy, how did you get the gig?
Edwards
I'm so excited just FYI.  As you know, I do bits and bobs of radio, I'm really passionate about radio, I think it's completely a dream of mine to present on Radio 1 and I thought ooh I'm just [indistinct word] in my showreel, see where it goes.  And they – the rest is history really.
White
So, tell us about this show you're going to do, what is it, it's a sort of greatest hits show isn't it?
Edwards
It is.  So, I'm on anthems late morning on 28th and 29th December from 10.00 am to 1.00 pm.  I'm going to be playing all sorts and my little guide dog, Olgie, is going to be at my feet and it's just going to be very exciting.
White
Now there's a lot going on in a radio studio, how are you going to approach the mixing desk?
Edwards
Yeah, so this has been a longstanding discussion with the producers of Radio 1 as they have never worked with a blind presenter before.  So, I think, they've been so accommodating and every step of the way they've said – Luce, how do you want to do it, talk us through the best ways to work round it.  And I think what we've come to at the moment is taking me step by step through the sliders, tactile – everything that's on the desk – touch it, have a few run throughs, I've still got a couple of run throughs to go before my show goes live on the 28th and 29th.  And there's a lot of Blu tac involved, but I'm sure we'll evolve the situation.
White
Ah, well, we'll come to that.  Jill Barkley is no stranger to spinning the wheels of steel as a blind person.  Jill's a music DJ on BBC Scotland.  So, how did you start Jill?
Barkley
I actually started through hospital radio.  I'd just lost my sight, I'm not much going on, apart from operations, and I saw an advert on the television.  You know, I grew up in Dublin, so this was in the day where it was run by nuns, so we weren't allowed to play things like Birds do it, Bees do it – it was deemed offensive.  Je t'aime was a no, no.  But you know it got me thinking – I'd always loved music and gigs and going to festivals and things like that and I thought, gosh it makes such sense, I should be working with sound.  And I used to make my own little radio programmes when I was a kid anyway.  So, it all kind of fell into place and I came over to Scotland, actually, to study and to learn how to be a sound engineer and it all kind progressed from there.
White
So, what about the desk, I mean we've just heard Lucy is going to get creative with Blu tac on the faders, what are your tips on that?
Barkley
Do you know something Lucy, I need to send you down my producer Paul from BBC Radio Scotland because he's amazing…
Edwards
Oh gosh, please.
Barkley
…he actually sits in the studio with me and although I drive my own desk, he configures the desk for me so that I'm doing everything from three faders and a next button, so I've only got one button and three faders to press.  And it's just easy peasy, it's just the three faders on my right-hand side.
White
But you're not much of a Blu tac fan are you?
Barkley
No, I haven't done the Blu tac thing and I know you can get bump ons but I think if everybody else is in the studio, I've been in studios before where I've put bump ons and people have picked them off going what are these. 
White
Any other advice for Lucy?
Barkley
Yeah, learn the intros, when it comes to talking up to the music you want to know when to come in and you'll get a natural feel for it as well, so you're get your playlist sorted and…
Edwards
And it's lovely because you can sort of hear the sort of dip in the sound, it's so accessible like that, when you're about to come in, can't you?
White
Yeah, that's how I used to do it, believe it or not I used to do this as well but mainly with quite a lot of help with somebody on my headphones next door but I used to get quite good at picking intros.  Lucy, have you got a bit of a sense that you're making history?
Edwards
Yes, on social media I've been quite overwhelmed by everything, it's been absolutely incredible.  I don't take it lightly, I feel so lucky to be in this position and also lucky to learn from you, Peter, over the years and also now hopefully Jill, I can take some tips from you.  So, you know, it's just incredible, yeah.
White
Will I now have to have a fight with Nick Grimshaw to get you on, get you on our programme?
Edwards
No, not at all, Peter, you've always got me.
White
Yeah, well we'll see won't we.  We hope so.
That's Lucy Edwards and Jill Barkley, thank you very much indeed.
Don't forget, if you want to tell us your election experiences – good or bad – you can leave a voice message by calling 0161 8361338, you can email intouch@bbc.co.uk or go to our website – bbc.co.uk/intouch, from where you can also download tonight's and other editions of the programme.
That's it from me, Peter White, producer this week Kevin Core and the team, goodbye.
Broadcast