Main content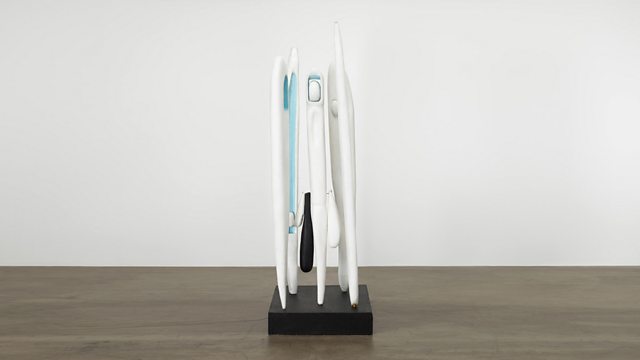 Sarah Sze and Siddhartha Mukherjee on Louise Bourgeois's Quarantania, I
A radiophonic art exhibition in which 30 of the world's most creative minds choose a work from New York's MoMA. Sarah Sze and Siddhartha Mukherjee on Bourgeois's Quarantania, I.
Art critic Alastair Sooke, in the company of some of the leading creatives of our age, continues his deep dive into the stunning works in the Museum of Modern Art's collection, whilst exploring what it really means "to see" art.
Today's edition features the choice of husband and wife Sarah Sze & Siddhartha Mukherjee. Sarah is an award-winning sculptor and Siddhartha Mukherjee is a Pulitzer Prize winning oncologist. Will the artist and the scientist see Louise Bourgeois' "Quarantania, I" sculpture differently?
Main Image:
Louise Bourgeois, Quarantania, I, 1947-53. Painted wood on wood base, 6' 9 1/4" (206.4 cm) high, including base 6 x 27 1/4 x 27" (15.2 x 69.1 x 68.6 cm). Gift of Ruth Stephan Franklin. Museum of Modern Art, NY, 1076.1969. © The Easton Foundation/VAGA at ARS, NY
Producer: Paul Kobrak
Selected by husband and wife Sarah Sze, a sculptor & Siddhartha Mukherjee, an oncologist
What did we find out when a cosmologist looked at Van Gogh's The Starry Night?
Podcast
Leading creative thinkers choose an artwork from MoMA and talk about how it inspires them.