Main content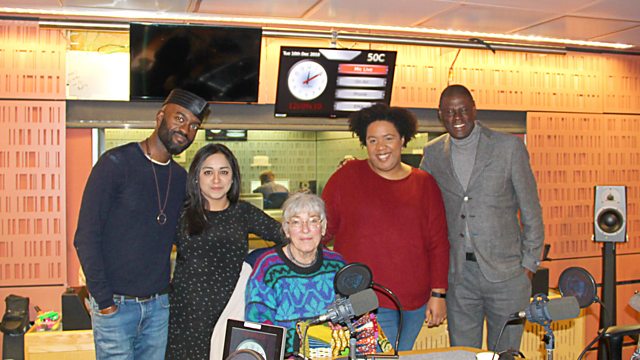 Pan-Africanism
Nana Oforiatta Ayim on her African encyclopedia and mobile grassroots history museum in Ghana, Inua Ellam's Three Sisters set in Biafra, the films of Med Hondo and pan-Africanism.
Nana Oforiatta Ayim, who is creating an encyclopedia of online images of Africa to challenge the way it is seen, has curated Ghana's first art pavilion at the Venice Biennale, toured a mobile museum round the country to gather a grass roots history and published her first novel.
The God Child by Nana Oforiatta Ayim is out now. Cultural Encyclopaedia is an online resource that includes an A-to-Z index and vertices of clickable images for entries about Africa https://www.culturalencyclopaedia.org/ She has been named as one of the Apollo magazine "40 under 40" and Africa Report's 50 Trailblazers.
Poet and playwright Inua Ellams has re-interpreted Chekhov's Three Sisters. The play is set in Biafra in the 1960s at the time of the civil war in Nigeria and raises questions of class, race, religion and education in the context of independence and the colonial legacy. Three Sisters is running at the National Theatre until 19 February 2020
The Mauritanian/French film director and actor Med Hondo died earlier in 2019. Considered by many to be the first pan-African réalisateur his films like Soleil Ô, Sarraounia an African Queen and West Indies explore the nature of being African, both within the continent and abroad. Kunle Olulode of the organisation Voice4Change talks about Med Hondo and his legacy. Med Hondo: Africa from the Seine is part of the BFI African Odysseys programme and continues until 15 December.
Marika Sherwood has written extensively on Africa including The Origins of Pan-Africanism, and Kwame Nkrumah and the Dawn of the Cold War. Louisa Egbunike is a writer and lecturer on African literature. With the other guests they discuss whether pan-Africanism implies homogeneity to the detriment of the diversity of African culture.
You can find Free Thinking discussions Celebrating Buchi Emecheta https://www.bbc.co.uk/programmes/b09r89gt
Caine Prize 2019 https://www.bbc.co.uk/programmes/m0006mtb
Caine Prize 2018 https://www.bbc.co.uk/programmes/b0b89ssp
Caine Prize 2017 https://www.bbc.co.uk/programmes/b08xcx1f
Louisa Ebunike on Afrofuturism https://www.bbc.co.uk/programmes/b09bx5l1
Afropean identities https://www.bbc.co.uk/programmes/m0005sjw
Presenter: Shahidha Bari
Producer: Harry Parker
Last on

Broadcast

Featured in...
Free Thinking explores divisions & differences & the way people define themselves...

Creativity, performance, debate