Main content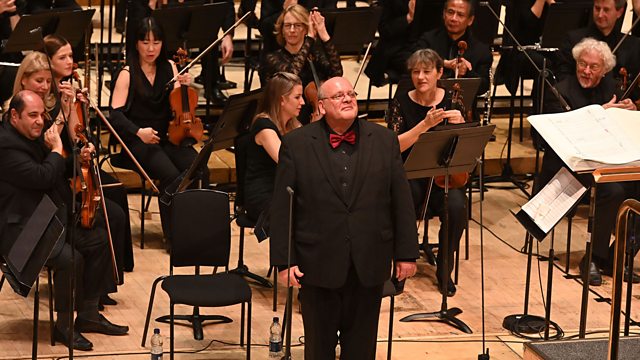 Total Immersion: Detlev Glanert's Requiem for Hieronymous Bosch
Semyon Bychkov conducts the BBC Singers, Chorus, Symphony Orchestra and soloists in an extraordinary epic. Plus a cappella music from Bosch's contemporaries in the Netherlands.
In the concluding concert of the BBC Symphony Orchestra's Total Immersion day at the Barbican, we hear a work that the German composer Detlev Glanert began in 2016 to mark five centuries since the death of the Dutch painter Hieronymous Bosch. Glanert's Requiem for Hieronymus Bosch combines the Latin texts of the Requiem Mass with selections from the medieval manuscript collection Carmina Burana. The result for four soloists, two choirs, organ and large orchestra is an 'inward spectacle' equivalent in intensity to one of Bach's passions but full of Glanert's radioactive excitability and irreverence. Semyon Bychkov leads the BBC Symphony Orchestra, Chorus and BBC Singers in the UK premiere of this major new work.
To preface the Requiem, the BBC Singers take us in sound to the mediaeval world Bosch inhabited. Instruments are often portrayed in his paintings, and even identifiable pieces of music such as Toutes les nuictz by Thomas Crecquillon, seen in the painting 'Concert in the Egg'. The BBC Singers perform the three parts of this work alongside music by Johannes Ockeghem and Pierre de la Rue, who worked in s'-Hertogenbosch at the same time as Bosch, and who was also a member of his Confraternity.
Recorded at the Barbican Hall London on Saturday 7th December 2019
Presented by Martin Handley
Crecquillon: Toutes les nuits; Qu'il est it besoing; Tel est le tamps
La Rue: Delicta Juventutis
Ockeghem: Alma redemptoris mater (scribed Alamire)
7.55pm
Interval: Detlev Glanert talks to Martin Handley
8.15pm
Detlev Glanert Requiem for Hieronymus Bosch
Aga Mikolaj (Soprano)
Norbert Ernst (Tenor)
Christa Mayer (Mezzo-soprano)
Albert Pesendorfer (Bass-baritone)
David Wilson-Johnson (Narrator)
BBC Singers
BBC Symphony Chorus
BBC Symphony Orchestra
Andrew Griffiths (Chorus Master/Conductor)
Semyon Bychkov (Conductor)
Featured in...
We broadcast more live and specially-recorded concerts and opera than any other station.