Main content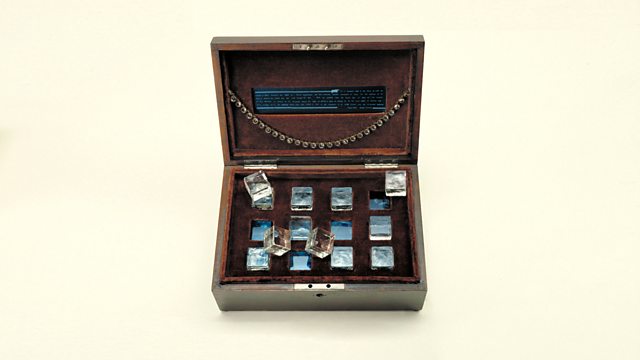 Orhan Pamuk on Taglioni's Jewel Casket by Joseph Cornell
A radiophonic art exhibition in which the world's most creative minds choose a favourite work from New York's MoMA. Ep 23 Orhan Pamuk on Taglioni's Jewel Casket by Joseph Cornell.
Art critic Alastair Sooke, in the company of some of the leading creatives of our age, continues his deep dive into the stunning works in the Museum of Modern Art's collection, whilst exploring what it really means "to see" art.
Today's edition features the choice of Nobel Prize winning Turkish novelist Orhan Pamuk. He picks American artist Joseph Cornell's jewellery box - a homage to Marie Taglioni, an acclaimed nineteenth-century dancer.
Main Image:
Joseph Cornell, Taglioni's Jewel Casket, 1940. Velvet-lined wooden box containing glass necklace, jewellery fragments, glass chips, and glass cubes resting in slots on glass, 4 3/4 x 11 7/8 x 8 1/4" (12 x 30.2 x 21 cm). Gift of James Thrall Soby. Museum of Modern Art, NY, 474.1953
Producer: Tom Alban
Selected by Turkish novelist Orhan Pamuk
What did we find out when a cosmologist looked at Van Gogh's The Starry Night?
Podcast
Leading creative thinkers choose an artwork from MoMA and talk about how it inspires them.