Main content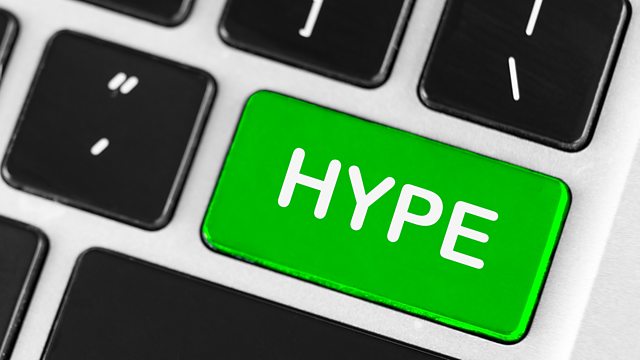 Peak Hype
Once hyped as the million pound poet, Murray Lachlan Young looks back at the history of hyperbole and asks: have we reached Peak Hype?
Is it, the essential grease for the wheels of commerce, signifiers to the malaise of the modern age, or indispensable tool to make yourself heard? Hype or hyperbole is many things to many people and in one way or another it can be argued that it deeply affects us all.
It played havoc with presenter Murray Lachlan Young. Once hyped as the million-pound poet, it all got out of control and he ended up seeking refuge in a wood - for three years!
Murray has been interested in hype ever since. Where does it come from? Can it be controlled? Is it always bad, and what does it say about public discourse and ideas when, to be heard, it often seems you are compelled to shout loudest?
In Peak Hype he explores the archive, reaching back to the First World War and the man who evolved the techniques which were used by others to persuade people to do almost anything - from fun things like buying more stuff than you need, to acquiescing in the murder or imprisonment of their friends and neighbours.
Hype was at heart of governments' post-war reconstruction strategies and powered everything from Beatlemania, punk, the celebrity obsession and the sunny uplands of the consumer society, where brands nosily competed for our attention and our money.
It may have been loud but it wasn't 'peak'. It has taken the invention of the smart phone to put a hype superhighway in our pockets. In this programme, Murray speaks to PR stars Lynne Franks, Mark Borkowski and Simon Evans and cultural commentators Richard Wharton and Darla Jane Gilroy and asks have we reached 'peak hype' and what does that mean?
Last on