Main content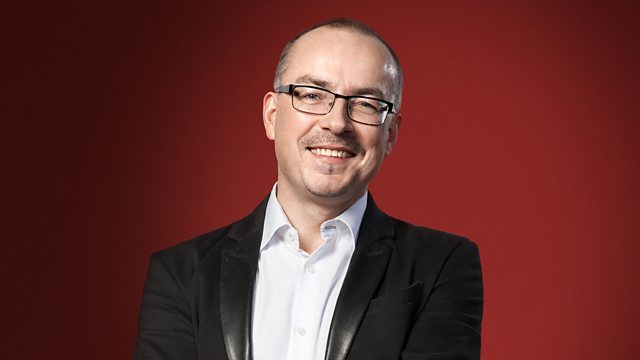 Andrew McGregor with Flora Wilson and Jan Smaczny
Andrew McGregor with Delibes's Lakme plus reissues of Czech pianist Rudolf Firkusny.
with Andrew McGregor
09.30
Building a Library: Flora Willson choose her favourite recordings of Delibes' opera Lakme
Written in the early 1880s and set in the British India of the mid-19th century, Lakmé is based on the novel Le Mariage de Loti by Pierre Loti. The opera includes the ever-popular Flower Duet sung by Lakmé, the daughter of a Brahmin priest, and her servant Mallika. It's most famous aria is the Bell Song in Act 2. Like other French operas of the 19th Century, Lakmé projects a view of the Orient seen through Western eyes. However as a piece of well-crafted escapism with gorgeous tunes and lavish scenic backdrop it is an opera well worth discovering.
10.50
Jan Smaczny joins Andrew to discuss resissues of the great Czech pianist Rudolf Firkusny who studied with the composers Janáček and Suk, and later with the legendary pianists Alfred Cortot and Artur Schnabel. He escaped the Nazis in 1939, fled to Paris, later settled in New York and eventually became a U.S. citizen. He had a broad repertoire and became known especially for his performances of the Czech composers Smetana, Dvořák, Janáček, and Martinů.
11.25
Andrew chooses an outstanding new release as his Recording of the Week
Record Review
9.00am
Mozart: Youth Symphonies
Freiburger Barockorchester
Gottfried von der Goltz (conductor)
Aparté AP215
https://www.apartemusic.com/albums/mozart-youth-symphonies/?lang=en
Noëls Baroques à Versailles: Golden Age of French Organ Collection, vol. 3
Gaétan Jarry (organ and conductor)
Les Pages du Centre de musique baroque de Versailles
Château de Versailles Spectacles CVS025
https://tickets.chateauversailles-spectacles.fr/uk/merchandising/10925/cd-noel-baroques-a-versailles
Bliss: Mary of Magdala, The Enchantress & Meditations of a Theme by John Blow
Dame Sarah Connolly (mezzo-soprano)
James Platt (bass)
BBC Symphony Chorus
BBC Symphony Orchestra
Sir Andrew Davis (conductor)
Chandos CHSA5242 (Hybrid SACD)
https://www.chandos.net/products/catalogue/CHAN%205242
Franck - Chopin
Gautier Capuçon (cello)
Yuja Wang (piano)
Erato 9029539226
https://www.warnerclassics.com/release/franck-chopin
9.30am – Building a Library – Flora Willson on Delibe's Lakmé
Composer: Léo Delibes
Reviewer: Flora Willson
Recommended Recording:


Mady Mesplé (soprano)
Danielle Millet (mezzo-soprano)
Charles Burles (tenor)
Roger Soyer (bass-baritone)
Jean-Christophe Benoit (baritone)
Bernadette Antoine (soprano)
Monique Linval (soprano)
Agnès Disney (mezzo-soprano)
Joseph Peyron (tenor)
Chœurs et Orchestre du Théâtre National de l'Opéra-Comique
Alain Lombard (conductor)
Erato 9029573486 (2CDs)
Other Recommended Recordings:
Natalie Dessay (soprano)
Patricia Petibon (soprano)
Xenia Konsek (soprano)
Delphine Haida (mezzo-soprano)
Gregory Kunde (tenor)
Franck Leguérinel (baritone)
José van Dam (bass-baritone)
Orchestre Du Capitole De Toulouse
Michel Plasson (conductor)
Erato 5565692 (2CDs)
10.20am – New Releases
Tchaikovsky & Barber: Violin Concertos
Johan Dalene (violin)
Norrköping Symphony Orchestra
Daniel Blendulf (conductor)
BIS BIS2440 (Hybrid SACD)
https://bis.se/performers/dalene-johan/tchaikovsky-and-barber-violin-concertos
Lully: Isis
Julie Calbète (soprano)
Julie Vercauteren (soprano)
Bénédicte Tauran (soprano)
Ambroisine Bré (mezzo-soprano)
Eve-Maud Hubeaux (mezzo-soprano)
Cyril Auvity (tenor)
Fabien Hyon (tenor)
Aimery Lefèvre (baritone)
Philippe Estèphe (baritone)
Edwin Crossley-Mercer (bass-baritone)
Chœur de Chambre de Namur
Les Talens Lyriques
Christophe Rousset (conductor)
Aparté AP216 (2CDs)
https://www.apartemusic.com/albums/lully-isis/?lang=en
Mahler: Symphony No. 8
Manuela Uhl (soprano)
Polina Pasztircsák (soprano)
Fatma Said (soprano)
Katrin Wundsam (mezzo-soprano)
Katharina Magiera (alto)
Neal Cooper, Tenor / Doctor Marianus
Hanno Müller-Brachmann (baritone)
Peter Rose (bas)s
Choir of the Städtischer Musikverein zu Düsseldorf
Philharmonischer Chor, Bonn
Kartäuserkantorei Köln
Youth Choir of the Clara-Schumann Musikschule, Düsseldorf
Düsseldorfer Symphoniker
Ádám Fischer (conductor)
Avi Music AVI8553474
https://avi-music.de/html/2019/3474.html
10.45am – New Releases – Jan Smaczny on Sony's Rudolf Firkušný collection
Rudolf Firkušný - The Complete RCA and Columbia Album Collection
Gabriela Beňačková (soprano)
Tossy Spivakovsky (violin)
Gregor Piatigorsky (cello)
Janos Starker (cello)
Juilliard Quartet
Rudolf Firkušný (piano)
Claus Peter Flor (conductor)
Howard Hanson (conductor)
Libor Pešek (conductor)
George Szell (conductor)
Czech Philharmonic Orchestra
Cleveland Orchestra
Royal Philharmonic Orchestra
Eastman-Rochester Symphony
Sony 19075922812 (18CDs)
11.15am – Record of the Week
Beethoven: Leonore
Marlis Petersen (soprano)
Robin Johannsen (soprano)
Johannes Chum (tenor)
Florian Feth (tenor)
Maximilian Schmitt (tenor)
Johannes Weisser (baritone)
Dimitry Ivashchenko (bass)
Tareq Nazmi (bass)
Julian Popken (bass)
Zürcher Sing-Akademie
Freiburger Barockorchester
René Jacobs (conductor)
Harmonia Mundi HMM90241415 (2CDs)