Main content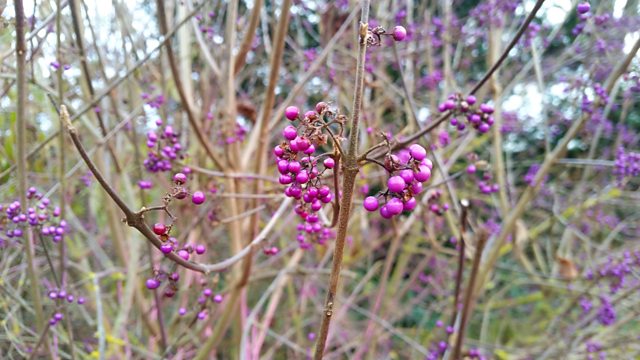 Dudley
Kathy Clugston and the panel are in Dudley.
Kathy Clugston and the panel are in Dudley. Pippa Greenwood, Matthew Wilson and Matthew Pottage answer the audience's horticultural queries.
This week, the panellists chat about their favourite Christmas plants, establishing a healthy hedge and caring for hedgehogs. They also answer questions on pruning a Smoke Bush, low maintenance Wisteria alternatives, and whether heavy rainfall will have affected spring bulbs.
Away from the questions, Claire Ratinon visits the Wildlife gardeners of Haggerston, East London, to chat with founders, Gideon Corby and Esther Adelman.
Producer: Hannah Newton
Assistant Producer: Rosie Merotra
A Somethin' Else production for BBC Radio 4
Plant List
Questions and time codes are below. Where applicable plant names are listed.
Q – We have some holly berries in our garden; how can we keep them from flocks of Fieldfares until Christmas?
(2 minutes 17 seconds)
Q – Can you tell me what has happened to my dying Winter jasmine (Jasminum nudiflorum)?
(5 minutes 12 seconds)
Q – Due to the large amount of rain recently, how do you think it will affect our spring bulbs (Tulipa and Narcissus)?
(8 minutes 4 seconds)
Q – We've recently had to take down a very mature Wisteria. Have you any ideas for an easily maintained replacement?
(10 minutes 37 seconds)
Matthew Pottage – Ceanothus
Trewithen Blue (Ceanothus arboreus)
Trumpet vine (Campsis radicans)
Pippa – Pineapple broom (Argyrocytisus battandieri)
Matthew Wilson – Abutilon megapotamicum
Feature – Wildlife gardeners of Haggerston
(16 minutes 29 seconds)
Silver birch (Betula pendula)
Hawthorn (Crataegus monogyna)
Blackthorn (Prunus spinosa)
Meadowsweet (Filipendula ulmaria)
Yellow flag iris (Iris pseudacorus)
Purple loosestrife (Lythrum salicaria)
Yellow loosestrife (Lysimachia vulgaris)
Water forget-me-not (Myosotis scorpioides)
Purging buckthorn (Rhamnus cathartica)
Alder buckthorn (Rhamnus frangula)
Q – I've cleared my raised beds after a summer crop. Is there still time for me to take action to prepare them for next year?
(23 minutes 42 seconds)
Q – I have a Smoke Bush growing out of shape. How much can I cut off?
(26 minutes 57 seconds)
Matthew Pottage – Smoke Bush (Continus coggygria)
Matthew Wilson – Paulownia
Hedging discussion
(30 minutes 20 seconds)
Matthew Wilson – Leylandii (Cuprocyparis leylandii)
Yew hedge (Taxus Baccata)
Box hedge (Buxus)
Matthew Pottage – Copper beech (Fagus sylvatica)
Variegated holly (Ilex aquifolium)
Green beech (Fagus)
Lonicera pileata
Privet (Ligustrum)
Hornbeam (Carpinus betulus)
Q – I planted a plum tree planted in May of last year and, when it came to leaf, it suffered severe leaf curl. Is that likely to reoccur, or is it likely to remedy itself? 
(36 minutes 3 seconds)
Matthew Wilson - Shallots (Allium ascalonicum)
Garlic (Allium sativum)
Chard (Beta vulgaris subsp. vulgaris)
Q – What is the team's favourite Christmas plant?
(38 minutes 2 seconds)
Matthew Pottage - Solanum crispum
Winter cherry (Withania somnifera)
Pippa – Cyclamen
Matthew Wilson – Hellebore (Helleborus niger)
Call 0800 082 82 84 to donate to the Radio 4 Christmas Appeal