Main content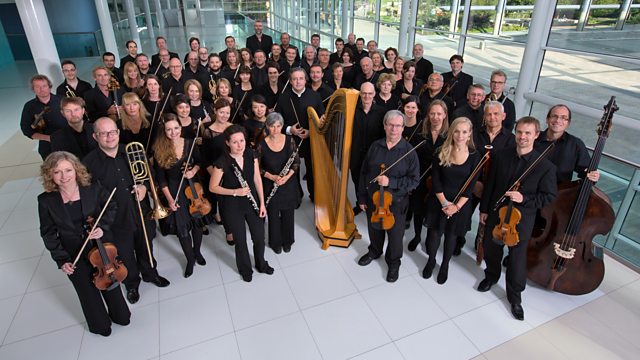 Opera Matinee: Ponchielli's La Gioconda
Sex and death in Venice - plus the Dance of the Hours for light relief. Canny marketing too - the name for Ponchielli's La Gioconda is borrowed from Leonardo da Vinci's Mona Lisa.
Sex and death in Venice - plus the Dance of the Hours for light relief. Canny marketing too - the name La Gioconda is borrowed from Leonardo da Vinci's Mona Lisa. Not that Ponchielli's opera has any connection at all with the painting. What it does have is everything you'd expect from a nineteenth-century Italian opera with a text by Verdi's favourite librettist (Arrigo Boito): illicit love, scheming wickedness, witchcraft, spying, disguise, deception, undying loyalty, ultimate tragedy - and great tunes. Presented by Penny Gore.
Gioconda, a singer ..... Anna Pirozzi (soprano)
Laura Adorno, a Genoese lady ..... Dolora Zajick (mezzo-soprano)
Alvise Badoero, Laura's husband and State Inquisitor ..... Ildebrando D'Arcangelo (bass)
La Cieca, Gioconda's blind mother ..... María José Montiel (contralto)
Enzo Grimaldo, a Genoese prince ….. Brian Jagde (tenor)
Barnaba, spy for the Inquisition ….. Gabriele Viviani (baritone)
Zuàne, a boatman / A Voice ….. Carlos Daza (bass)
Isèpo, a scribe / A Voice ….. Beñat Egiarte (tenor)
A Barnabotto / A Pilot / A Singer ….. Marc Pujol (bass)
Gran Teatre del Liceu Chorus and Orchestra
Conductor Guillermo García Calvo
Plus an encore from this week's Afternoon Concert featured orchestra:
Bach arr. David Matthews: Prelude and Fugue in C, BWV 547
BBC Philharmonic
Conductor John Storgards
Last on
Music Played
Amilcare Ponchielli

La Gioconda: Act 1

Singer: Anna Pirozzi.

Amilcare Ponchielli

La Gioconda: Act 2

Singer: Anna Pirozzi.

Amilcare Ponchielli

La Gioconda: Act 3

Singer: Anna Pirozzi.

Amilcare Ponchielli

La Gioconda: Act 4

Singer: Anna Pirozzi.

Johann Sebastian Bach

Prelude and fugue in C major BWV.547 for organ

Music Arranger: David Matthews. Orchestra: BBC Philharmonic. Conductor: John Storgårds.
SYNOPSIS
ACT I
Venice, 18th century. While citizens celebrate the Carnival, Barnaba, a spy for the Inquisition, reflects on his unrequited love for the beautiful street singer La Gioconda. When she appears with her blind mother, La Cieca, he tries to force himself on Gioconda, but she escapes him and goes off in search of her lover, Enzo Grimaldo, leaving her mother behind. Barnaba convinces the crowd that La Cieca is a witch, and the mob threatens the old woman. The returning Gioconda and Enzo are unable to subdue the angry Venetians. At that moment, Alvise Badoero, the head of the Inquisition, passes with his young wife, Laura. The crowd falls silent, and La Cieca gives Laura her rosary in gratitude. All leave for evening mass except for Barnaba and Enzo, whom the spy recognizes as a banished Genoese nobleman once in love with Laura. Intending to prove Enzo's infidelity to Gioconda, Barnaba tells him he can arrange for Laura to visit him on his ship that very evening. Enzo is overjoyed at the prospect of seeing his former lover even though he realizes that Barnaba is trying to set a trap for Gioconda. He hurries to his ship to wait for Laura and escape from the city with her. Barnaba dictates a note to the scribe Isèpo, denouncing Enzo and revealing his plan to leave the city with Laura, and puts it in the Lion's Mouth, the repository for denunciations to the Inquisition. Gioconda, who has overheard the scene, is desperate over Enzo's betrayal.
ACT II
Barnaba, disguised as a fisherman, appears on Enzo's ship to spy on him. The crew joins him in singing a barcarolle. After he has left, Enzo arrives. He waits for Laura and thinks about the mystical beauty of sky and sea. Laura is rowed to the ship by Barnaba, who disappears again as Enzo prepares for the voyage and Laura prays to the Virgin for protection. Meanwhile, Gioconda has entered unobserved. The two women confront each other, and Gioconda is about to stab Laura when she notices La Cieca's rosary in her hand. Realizing it was Laura who saved her mother's life, Gioconda warns her rival that Alvise is on his way and helps her escape. When Enzo returns, Gioconda explains to him that Barnaba has betrayed his plan and urges him to return to the city with her, while cannons are fired from Alvise's ship. Enzo defiantly affirms his love for Laura, then sets fire to his own ship and leaps into the lagoon.
ACT III
In the Ca' d'Oro palace, Alvise decides to avenge the honour of his family by killing his wife. Laura enters, and he orders her to drink a vial of poison before the song heard from outside has ended. As soon as he has left the room, Gioconda slips in. She is resolved to save Laura for the sake of Enzo and gives her a sleeping potion that will make her appear dead.
Alvise greets his guests in the ballroom and presents a ballet for their entertainment (The Dance of the Hours). Barnaba drags in La Cieca. She has been found in the palace, claiming to be praying for the dead. At that moment, a funeral bell is heard. Barnaba tells Enzo, who has entered the palace in disguise, that it tolls for Laura. On hearing this, Enzo reveals his identity, and Alvise orders him to be arrested. Gioconda offers herself to Barnaba if he will have Enzo released from prison. Barnaba agrees but takes La Cieca as hostage. Alvise reveals the body of his apparently dead wife to the shocked guests.
ACT IV
Gioconda's friends carry the sleeping Laura into the street singer's home on the Giudecca island. Left alone, Gioconda is torn between feelings of desperation and revenge and resolves to kill herself. Enzo bursts in, unable to understand why he has been set free. He accuses Gioconda of stealing Laura's dead body and is about to stab her when Laura's voice is heard. Gioconda explains what she has done. Deeply moved by her self-sacrifice, Enzo and Laura thank her before making their escape. As soon as Gioconda is alone, Barnaba appears demanding his reward. Stalling for time, she puts on jewels, then takes a dagger and kills herself. Furious and frustrated, Barnaba screams out that he has murdered her mother, but Gioconda can no longer hear him
Broadcast