Main content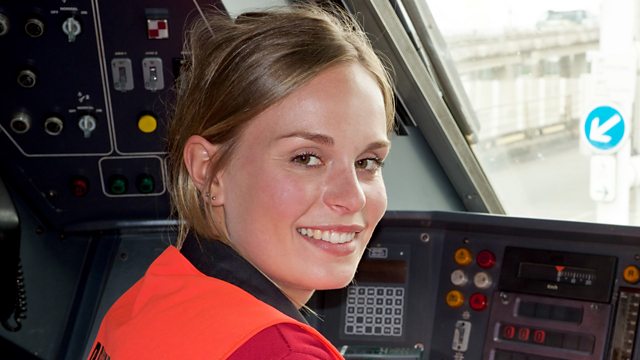 Tash Speed, Eurotunnel Train Driver
Eurotunnel train driver Tash Speed; women, Northern Ireland and the general election; free periods; women in Stem v Wikipedia.
Tash Speed, 25, is one of 20 women who work as a Eurotunnel driver in the UK. recently appearing on the BBC2 documentary celebrating its 25th anniversary. Originally a financial advisor, she retrained in a vigorous driving and engineering course with a 90% fail rate. What are the unique challenges of driving trains for the busiest rail system in the world, which includes operating the "dead man's pedal"?
Andrea Catherwood speaks to Grainne Teggart, from Amnesty Northern Ireland and writer, Siobhan Fenton. What are the key issues for women in Northern Ireland in the upcoming General Election?
After a long campaign from #FreePeriods, the Government agreed to fund a scheme to ensure all primary and secondary schools and colleges provided free period products to menstruating pupils. This was meant to start rolling out in September 2019 but has now been pushed back to January 2020. It is an opt-in scheme and so schools and colleges must sign up to receive free sanitary products. Gemma Abbott is a campaigner for FreePeriods and volunteer from the charity The Red Box Project, and Nadia Collier is a family support worker at a primary school in London, who has first-hand experience of how important these free period products can be.
Most Wikipedia profiles are of men. A British physicist has made it her mission to change that, adding pages for more than 800 women in STEM. But who really decides who is notable enough to be included in the encyclopedia? Dr Jess Wade explains her quest for diversity and equality online, and the real-life impact it can have on the careers of women scientists.
Presenter: Andrea Catherwood
Producer: Kirsty Starkey
Interviewed Guest: Grainne Teggart
Interviewed Guest: Siobhan Fenton
Interviewed Guest: Tash Speed
Photographer: Matthew Wheeler
Interviewed Guest: Gemma Abbott
Interviewed Guest: Nadia Collier
Interviewed Guest: Dr Jess Wade