Main content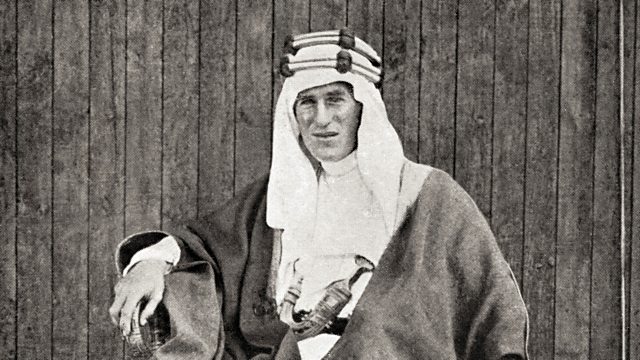 Lawrence of Arabia
Melvyn Bragg and guests discuss Lawrence of Arabia, the legend and its context, an idea drawn from over 1200 suggested by listeners this autumn
Melvyn Bragg and guests discuss T.E. Lawrence (1888 – 1935), better known as Lawrence of Arabia, a topic drawn from over 1200 suggestions for our Listener Week 2019. Although Lawrence started as an archaeologist in the Middle East, when World War I broke out he joined the British army and became an intelligence officer. His contact with a prominent Arab leader, Sharif Hussein, made him sympathetic to Hussein's cause and during the Arab Revolt of 1916 he not only served the British but also the interests of Hussein. After the war he was dismayed by the peace settlement and felt that the British had broken an assurance that Sharif Hussein would lead a new Arab kingdom. Lawrence was made famous by the work of Lowell Thomas, whose film of Lawrence drew huge audiences in 1919, which led to his own book Seven Pillars of Wisdom and David Lean's 1962 film with Peter O'Toole.
In previous Listener Weeks, we've discussed Kafka's The Trial, The Voyages of Captain Cook, Garibaldi and the Risorgimento, Moby Dick and The Thirty Years War.
With
Hussein Omar
Lecturer in Modern Global History at University College Dublin
Catriona Pennell
Associate Professor of Modern History and Memory Studies at the University of Exeter
Neil Faulkner
Director of Military History Live and Editor of the magazine Military History Matters
Producer: Simon Tillotson
Last on
LINKS AND FURTHER READING
Catriona Pennell at the University of Exeter
Hussein Omar at University College Dublin
'Focus: The Middle East, Hallucination, and The Cartographic Imagination' by Daniel Neep
READING LIST:
Mustafa Aksakal, The Ottoman Road to War in 1914: The Ottoman Empire and the First World War (Cambridge University Press, 2006)
James Barr, A Line in the Sand: Britain, France, and the Struggle that Shaped the Middle East (Simon & Schuster, 2011)
Steven C. Caton, Lawrence of Arabia: A Film's Anthropology (University of California Press, 1999)
Neil Faulkner, Lawrence of Arabia's War: The Arabs, the British, and the Remaking of the Middle East in WWI (Yale University Press, 2016)
Rob Johnson, The Great War and the Middle East: A Strategic Study (Oxford University Press, 2016)
Michael Korda, Hero: The Life and Legend of Lawrence of Arabia (Aurum, 2011)
T. E. Lawrence, Seven Pillars of Wisdom (first published 1926; Wordsworth, 1997)
Sean McMeekin, The Ottoman Endgame: War, Revolution and the Making of the Modern Middle East, 1908 – 1923 (Penguin, 2016)
Eugene Rogan, The Fall of the Ottomans: The Great War in the Middle East, 1914 -1920 (Allen Lane, 2015)
Priya Satia, Spies in Arabia: The Great War and the Cultural Foundations of Britain's Covert Empire in the Middle East (Oxford University Press, 2009)
Salim Tamari, Year of the Locust: A Soldier's Diary and the Erasure of Palestine's Ottoman Past (University of California Press, 2011)
Broadcasts

Featured in...
Browse the 20th Century era within the In Our Time archive.

Historical themes, events and key individuals from Akhenaten to Xenophon.