Main content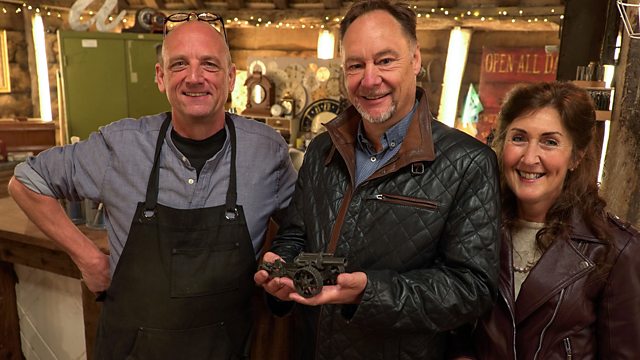 The team take on a toy cannon, a Victorian inkwell and a saintly statue that has suffered an unholy breakage.
Today, Andrew Denly and wife Sheila from Sussex are hoping clockmaker Steve Fletcher can fix a vintage boy's toy with big memories attached. It's an antique toy cannon handed down to Andrew by his grandfather, who bought it with his pocket money in 1907. Andrew fondly describes his grandfather as his inspiration and boyhood hero. The little cannon is much treasured but hasn't worked in over 50 years. Steve must use all his ingenuity to get it firing once more.
A Victorian oddity is brought to the attention of leather expert Susie Fletcher. Sisters Pam and Frances are hoping Suzie can revive a novelty inkwell in the shape of a hat. It is a treasured family heirloom as it had huge sentimental value to the sisters' mother. After years of vigorous overuse, the button mechanism no longer works and it is missing its leather covering. Suzie drafts in sibling Steve Fletcher to help make a missing part, and she discovers a new talent for miniature millinery as she returns the inkwell to its stylish former glory.
Finally, ceramics expert Kirstin Ramsey prays for divine intervention as she tries to rebuild a saintly statue. Caroline Morson and Professor John Northover have come to the barn seeking help resurrecting an important icon that's been a symbol of hope to many: a statue of St Fiacre, the patron saint of gardeners and haemorrhoid victims! The statue has been a landmark in the garden of St Mark's Hospital, a centre for the treatment of bowel disease, for many years, but has been vandalised and is now broken in two. Gifted to the hospital by Caroline's father, renowned pathologist Dr Basil Morson, staff and patients alike are keen to see St Fiacre restored and back on duty. By far one of the biggest projects Kirsten has had on her bench, she must clean and reunite the two large broken halves, creating an imperceptible join to breathe new life into this old saint.