Main content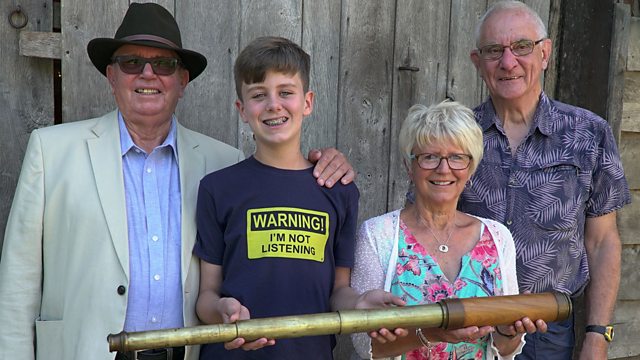 The team take on a Victorian high chair, a smuggler's telescope and a tippling stick.
Today, Morag Croll brings into the barn a 19th-century heirloom she's hoping can be preserved for posterity. The tippling stick is thought to have belonged to King George V and was given to Morag's great-grandfather, a master baker, as a retirement gift. Brenton and Will join forces with their restoration expertise to repair this unique item.
Next, 12-year-old William, his granny Christine and her brother Keith have a nearly 200-year-old telescope that needs optics expert Richard Biggs to cast his eye over it. William would love to use the telescope as his great-great-great-great-grandfather once did in the 1800s. Now blurry and broken, this antique needs an expert's eye to bring it back into focus.
Finally, a Victorian high chair that transforms into a rocking chair. It has been in Christine Day's family for over 100 years and has helped raise many generations, including Christine's father. Sadly, it is no longer safe to use, but Christine is hoping it can be fixed and brought back to life for her youngest grandchild. It's a team effort as furniture restorer Will Kirk calls in the expertise of master saddler Suzie Fletcher and metalworker Dom Chinea to get the convertible high chair back into action.