Main content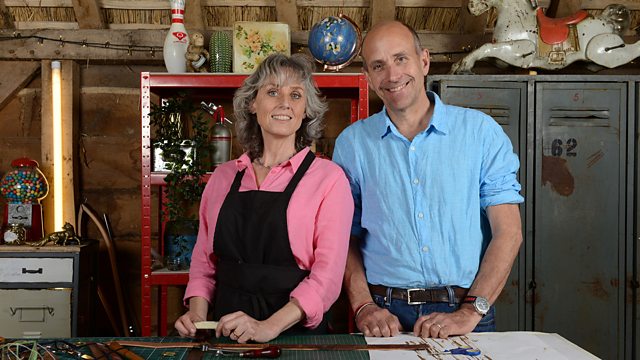 The team take on a well-loved garden bench, an old school calculator and an antique bridle.
Today, Janette Drew and her mother, Margaret Murphy, are hoping that metalwork expert Dominic Chinea can save a beloved bench that's on its last legs. This humble garden seat is a reminder of where Margaret first met her husband in his mother's garden. Dom needs to take apart the crumbling seat completely to restore it to its former glory.
Donald Creasy and his daughter Becky and grandsons Sam and Joe are hoping Steve Fletcher's mechanical expertise might solve a tricky problem. A Triumphator calculator, a descendant of the revolutionary adding machines of the 1900s, which was used by Donald when he worked in a laboratory over 50 years ago, is now completely jammed up and hasn't performed a calculation in decades. Steve is stumped at first by the mechanical calculator, but things finally begin to add up and the family are amazed to see it up and running again.
A unique piece of family heritage arrives with Ella Woolls and her father Jon: an antique bridle in need of some serious TLC. Master saddler Suzie Fletcher is just the person for the job. The bridle was made by Ella's great-grandfather, and they're hopeful Susie will be able to bring it back to its former glory so it can survive another 100 years.