Main content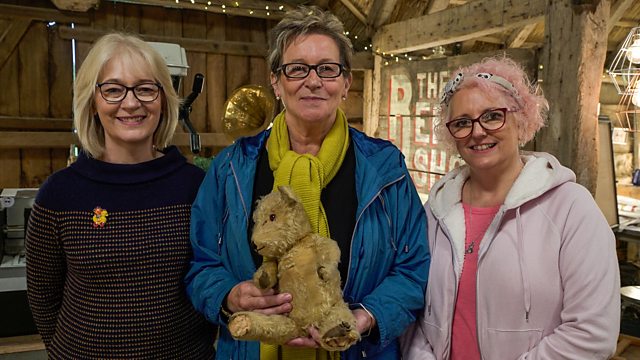 The team take on a much-loved teddy bear, an unusual instrument with a music hall past and a century-old tea caddy.
Today, Lesley Kellard from London hopes toy restorers Julie Tatchell and Amanda Middleditch can get a very old friend back on his feet. Ted means an awful lot to Lesley, as he was one of the first toys she received from her wonderful adoptive parents, Mary and John. Born in 1946, Lesley didn't have the most conventional start to life. When she was four months old, she was left in a carrier bag on the doorstep of Mary and John's house in King's Cross. The childless couple instantly fell in love with her and she was adopted at 14 months.
Next into the barn is Wendy Smith from Leicester, accompanied by husband Fred. They're hoping musical instrument restorer Pete Woods can give a family heirloom back its pluck. They've brought an old favourite of the music hall: a banjulele dating back to the 1920s. A four-stringed hybrid of banjo and a ukulele, the instrument originally belonged to Wendy's mother Phyllis, a music hall entertainer. Sadly it's now missing its strings and bridge and needs a new skin.
Finally, a century-old tea caddy that's been used by the Thame family to store treasured mementos. Will Kirk is on hand to revive this precious box of memories so it can continue to serve the family for generations to come.