Main content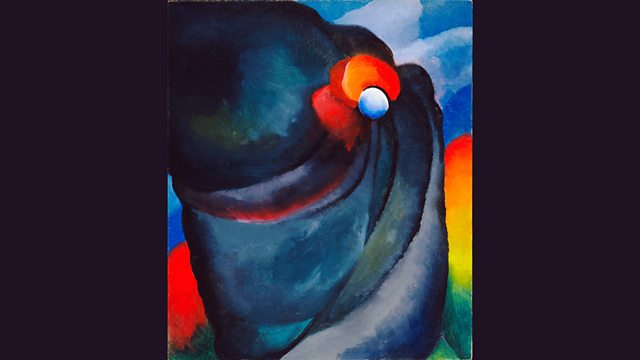 Fiona Shaw on Georgia O'Keeffe's Lake George, Coat and Red
Radio 3 presents a radiophonic art exhibition, as 30 of the world's most creative minds choose their favourite work from New York's MoMA. Ep 16: Fiona Shaw on Georgia O'Keeffe.
Art critic Alastair Sooke, in the company of some of the leading creatives of our age, takes us on a deep dive into the stunning works in the Museum of Modern Art's collection, whilst exploring what it really means "to see" art.
Leading cultural figures in the series include Grammy- and Emmy award-winning Hollywood actor and comedian Steve Martin, one of the founders of minimalism – composer Steve Reich and stand-up comedian Margaret Cho. Each episode introduces us to an important art work in the collection, but asks how our own perspective affects our appreciation of the piece.
So, how does a jazz pianist see Mondrian's Broadway Boogie Woogie? How does one of the first black women to write for Marvel comics see the difficult truths in Kara Walker's sweeping image of African-American history? What does a top fashion designer decode from the clothes painted by an artist in Harlem in the 1930s?
We begin this second part of the series with the gaze of Emmy award-winning Irish actor Fiona Shaw, currently playing the sinister secret agent Carolyn Martens in the hit TV series "Killing Eve". She has chosen a work by an artist who has been described as the "Mother of American modernism" - Georgia O'Keefe. Best known for her paintings of enlarged flowers, New York skyscrapers, and New Mexico landscapes, Fiona has chosen an excellent example of her style; "Lake George, Coat and Red". But why has she chosen it - and why does she declare that she wouldn't like to own it?
Producer: Tom Alban
Main Image: Georgia O'Keeffe, Lake George, Coat and Red, 1919. Oil on canvas, 27 3/8 x 23 1/4" (69.6 x 59 cm). Gift of The Georgia O'Keeffe Foundation. Museum of Modern Art, NY, 65.1995. © 2019 The Museum of Modern Art / Artists Rights Society (ARS), New York
What did we find out when a cosmologist looked at Van Gogh's The Starry Night?
Podcast
Leading creative thinkers choose an artwork from MoMA and talk about how it inspires them.