Main content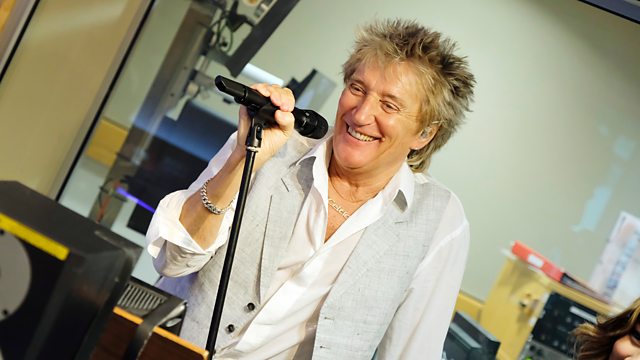 Decca's Top Twenty (Part 1 - Number 20 to Number 11)
Decca Records celebrates 90 years in the music business, and Rod Stewart presents a Top 20 chart of their best, diverse & influential pop hits, an exclusive for Radio 2.
Acclaimed legendary British record label Decca Records celebrates its 90th Birthday in 2019. As well as a worldwide reputation for an incredible classical catalogue - Decca has also made musical history by recording and releasing innovative, groundbreaking and highly influential popular music, which often popularised and established hitherto overlooked musical genres. Presented by one of the best-selling music artists of all time, the multi-award-winning singer-songwriter, Rod Stewart (his first ever single 1964's 'Good Morning Little Schoolgirl' and latest number one album 'Blood Red Roses' were both released by Decca).
DECCA'S TOP TWENTY, exclusive for Radio 2 listeners, explores Decca's most important pop music releases and artists. The chart was compiled after discussion and guidance from industry taste-makers and experts (as well Decca staff past and present); from impressive sales figures, as well as impact, longevity and contemporary relevance. Featuring exclusive interviews with Decca artists including: Michael Ball & Alfie Boe, Founding member of the Lumineers – Wesley Schultz, Marianne Faithfull, Justin Hayward of the Moody Blues, Katherine Jenkins, blues singer Dana Gillespie, Bryn Terfel, Imelda May, Roger Daltrey and Lulu.
Decca Records was the dream of one man, Edward Lewis who founded the company in 1929 with a desire to produce affordable music that could be owned by everyone. He was to surround himself with the best brains in music, recording and technology. In 1934, Decca opened an American subsidiary which due to the artists it signed, helped to save the then ailing US record industry.
Here's just a fraction of the diverse artists recorded by Decca and its subsidiary labels: The Rolling Stones, Vera Lynn, Them, Bing Crosby, Ball and Boe, Judy Garland, Bill Haley and his Comets, Ella Fitzgerald, David Bowie, Adam and the Ants, Genesis, Jacques Loussier, Billy Fury, Stephane Grappelli and Django Reinhardt, Thin Lizzy, Cat Stevens, Tom Jones, & The Smurfs….
The two-part series also features contributions from Tim Rice, Annie Nightingale, former Decca producer Mike Vernon, music writer Daryl Easlea, composer Steve Sidwell, broadcaster Dotun Adebayo and Radio 2's Bob Harris.
Programme 1 – the countdown is from Number 20 to Number 11.
Decca's Top Twenty - 20-11
20 Mantovani - Charmaine
A top ten US hit in 1951 (before published UK charts) Italian orchestral conductor Annuzio Paolo Mantovani was Britain's biggest record seller until The Beatles came along – at one point having six albums simultaneously in the US top thirty in 1959.  Charmaine was his biggest hit – and features the signature 'cascading strings' which would be so highly influential in the world of 'easy listening'.
19 Billie Holiday - Lover Man
Signing to new label US Decca when her old label Columbia wouldn't release 'Strange Fruit' jazz legend Billie Holiday released some of her best (and often self written) material for Decca.   
18 Bill Haley and his Comets - Rock Around The Clock
A hit single that changed everything.  Even though Bill Haley didn't resemble anyone's idea of a 'rock 'n'roller' his music was the catalyst for a whole generation of rebels, and the first UK million selling single Rock Around The Clock still engenders youthful excitement upon playing.
17 The Smurfs - The Smurf Song  
Decca released all genres of music – but also had more than their fair share of whacky novelty hits, and we hear the story of how the Smurfs were Decca's biggest artists of the late 70s.  We also hear 'Mouldy Old Dough' by Lieutenant Pigeon
16 Lulu - Shout
An adrenaline rush of a record still played at parties today – 15-year-old Lulu's first single is quite possibly the apex of 1960's British artists covering US R+B hits – immediately identifiable from her fabulous 'weeeeelllllll' at the top of the record, with a voice so raucous it broke the ribbon microphone during her Decca audition….
15 Judy Garland - Over The Rainbow
14-year-old Judy was signed to Decca's American branch in 1936 – and in 1940 issued an album of 78rpm records of songs from The Wizard of Oz, Decca being a pioneer in recording cast/soundtrack albums.  Both Judy Garland and Over The Rainbow are absolutely iconic.
14 John Mayall's Bluesbreakers featuring Eric Clapton - Have You Heard 
A standout track taken from the breakthrough hit album that popularised and effectively launched the British Blues phenomenon which would lead to world conquering bands such as Cream and Led Zeppelin.   
13 David Bowie - The Laughing Gnome  
Not a hit on release in 1967 – but made the Top Ten at the height of Ziggy-mania in 1973, it was released on Decca's 'alternative' label imprint Deram – which would also release significant debut left-field pop records.   
12 Jacques Loussier Trio - Air On A G String 
Selling over six million albums most notably with superb and innovative jazz arrangements of JS Bach – Loussier is also a perfect example of the power of music in advertising, this track having been used for over thirty years to sell cigars.  
11 Ball and Boe - I Dreamed A Dream 
Quite simply the biggest British recorded music phenomenon of the past few years, the million album selling partnership of Michael Ball and Alfie Boe has swept all before it with two number one hit albums.