Main content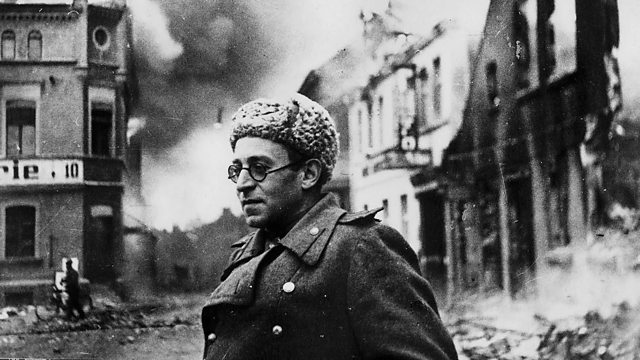 Part one of Vasily Grossman's dark and honest account of the epic battle of Stalingrad; a prequel to his novel Life and Fate. Dramatised by Mike Walker.
By Vasily Grossman
Translated by Robert and Elizabeth Chandler
Dramatised by Mike Walker
Part one of Grossman's dark and honest account of the epic battle of Stalingrad; a prequel to his novel Life and Fate.
The Radio 4 adaptation of Life and Fate triggered an enormous revival of enthusiasm for this towering Russian novel of the twentieth century, and the extraordinary life and work of its author Vasily Grossman.
Now Kenneth Branagh, Greta Scacchi and Mark Bonnar star in Grossman's prequel to Life and Fate, newly published in its first ever English translation by Richard and Elizabeth Chandler.
Stalingrad explores the approach of war to the city of Stalingrad, through the many lives of the Shaposhnikov family and their partners. Atomic scientist Viktor Shtrum struggles with his work for the Soviet state, while his family live, love and work despite swirling rumours, to run the city's power stations, factories and hospitals.
Meanwhile at the front, we meet old-school Bolshevik Commissar Nikolai Krymov in the thick of the Russian army's pell-mell retreat before Operation Barbarossa, and follow the 'unknown' soldiers on the battlefield, giving their lives to hold the line at the Volga.
After three years of agonised rewrites under the censors' gaze, Stalingrad was finally published in the USSR to universal acclaim, though Grossman was soon being denounced for depicting Russians who were not always heroes. But as a former war correspondent, Grossman was determined to tell the dark and honest truth of the epic battle of Stalingrad, and the men and women caught up in it.
The whole of Grossman's War, including Radio 4's dramatisation of Life and Fate, is now available on BBC Sounds.
Viktor Shtrum ….. Kenneth Branagh,
Lyuda Shaposhnikova ..... Greta Scacchi
Alexandra ….. Ann Mitchell
Zhenya ….. Doon Mackichan
Stepan Spiridonov ….. Kenneth Cranham
Nina ….. Danusia Samal
Vera ….. Scarlett Courtney
Tolya ….. Will Kirk
Novikov ….. Rick Warden
Lenya ….. Greg Jones
Pryahkin ….. Clive Hayward
Yeremenko ….. Neil McCaul
Apparatchik ….. Adam Courting
Driver ….. Ikky Elias
Woman….. Sinead MacInnes
Original music composed by John Hardy, with Rob Whitehead, and performed by Oliver Wilson-Dixon, Tom Jackson, Stacey Blythe, and Max Pownall.
Produced and directed by Jonquil Panting
Series Producer Alison Hindell
Last on
More episodes
Previous
You are at the first episode
Broadcast