Main content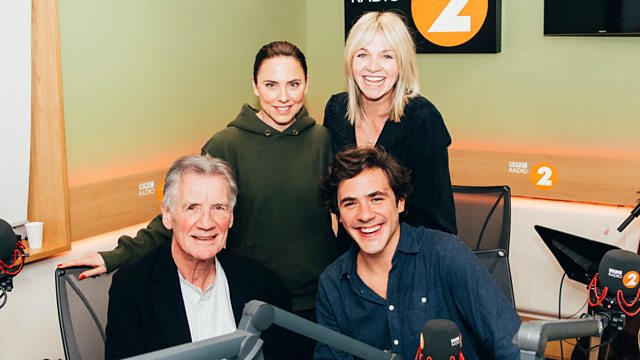 Sir Michael Palin, Melanie C and Jack Savoretti
Wake up to a star-studded breakfast with Zoe Ball. She's joined by Sir Michael Palin and Spice Girl Melanie C, with live music in the studio from Jack Savoretti.
Wake up to a star-studded breakfast with Zoe Ball and a whole host of celebrity guests, including Sir Michael Palin and Mel C, with live music in the studio from Jack Savoretti. Sir Michael Palin shares stories from his North Korea Journal, from when the Monty Python star and traveller spent two weeks in the country. Sporty Spice Melanie C tells us about her new single High Heels and Jack Savoretti plays tracks from the special edition release of his number 1 album Singing To Strangers, as well as a perfectly picked cover!
Plus we also hear from our 12-year-old Strictly Come Dancing correspondent Kate, who previews Saturday's dance floor routines for Musical Week.
Along with Tina Daheley on news, Richie Anderson on travel and Mike Williams on sport, Zoe and the team have the best start to your morning. With celeb guests, quizzes, headlines, tunes chosen by listeners and more music that you can shake a glitterball at!
There's also weather with Sarah Keith-Lucas and a Pause For Thought from comedian and writer Paul Kerensa as Zoe entertains the nation with fun for the family!
Last on
Music Played
Rod Stewart

&

Robbie Williams

It Takes Two

You're In My Heart: Rod Stewart With The Royal Philharmonic Orchestra.
Rhino Records.

Katy Perry

Chained To The Rhythm (feat. Skip Marley)

(CD Single).
Capitol Records.

Matt Bianco

Get Out of Your Lazy Bed

Whose Side Are You On (Deluxe Edition).
Cherry Pop.
006.

The Maisonettes

Heartache Avenue

History Of The 80's (Various Artists).
Br Music.

Michael McDonald

Sweet Freedom

Michael McDonald - Sweet Freedom.
Warner Bros.

James Blunt

The Truth

Once Upon A Mind.
Atlantic.

Coldplay

Everyday Life (Radio 2 Session, 27 Nov 2019)

Lou Rawls

Lady Love

Million Sellers Vol.17 - The Seventie.
Disky.

Michael Bublé

It's A Beautiful Day

Shakira

Whenever, Wherever

SHAED

Trampoline (feat. ZAYN)

Wild Cherry

Play That Funky Music

Walk On - Hits From The Last 2 Decade.
Columbia.

Rick Astley

Never Gonna Give You Up

Rick Astley - Whenever You Need Someb.
RCA.

Giorgio Moroder

&

Philip Oakey

Together In Electric Dreams

Our Friends Electric (Various Artists.
Telstar.

Melanie C

High Heels (feat. Sink the Pink)

(CD Single).
Red Girl Media.

Niall Horan

Nice To Meet Ya

(CD Single).
Capitol Records.

Rose Royce

Car Wash

Now 12 (Various Artists).
Now.

Dua Lipa

Don't Start Now

(CD Single).
Warner Records.

The Isley Brothers

Harvest For The World

The Greatest Hits Of 1976 (Various).
Premier.
Pause For Thought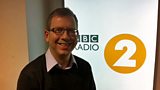 From comedian & writer Paul Kerensa:
As a comedy writer, I bow before Sir Michael of Python, the Knight who said Ni and many longer words I could recite. Yes, I was that guy at school, the comedy nerd who'd committed Python to memory. Still today, I recall the longest name from any Python sketch: That great German composer, whose name history has forgotten. "Why is it," the sketch says, "the world never remembered the name of..." – from memory, now – "Johann Gambolputty de von Ausfern-schplenden-schlitter-crasscrenbon-fried-digger-dingle-dangle-dongle-dungle-burstein-von-nacker-thrasher-apple-banger-horowitz-ticolensic-grander-knotty-spelltinkle-grandlich-grumblemeyer-spelterwasser-wurstlich-himbleeisen-bahnwagen-gutenabend-bitte-ein-nürnburger-bratwustle-gersputten-mit-zweimache-luber-hundsfut-gumberaber-schönendanker-kalbsfleisch-mittleraucher von Hautkopft of Ulm?"
History's forgotten that name, but I haven't.
I learned that when I was 12. But learn something similar now? I would struggle. What we hear as children embeds in our brains. And there's no other time of year like this, with Advent starting this weekend, for harking back to our youth.
We dive in and out of shops, hear two bars of The Spice Girls singing Sleigh Ride, and our brains finish the rest. Just hear those sleigh bells jingling, and our memories are ring-ting-tingling too...
Traditionally, Advent's a time of preparation, anticipation and focus. From today on, I'm in and out of churches and comedy clubs for the next month: reciting the same jokes, the same carols, telling the same story. Whatever our flavour of Christmas, we prepare, anticipate, relearn and pass on rituals from days gone by. From school nativities to shopping soundtracks, words we heard as children emerge from hibernation.
So I feel for those young sponge-like brains, who only hear harsher words. Where the soundtrack to the season isn't as joyous, or festive – more themed on an Eastenders Christmas special.
Rob Parsons, founder of a family-focussed charity says: "We think our children don't listen, while the truth is, they never miss a thing. Don't worry they're not listening to you – worry that they are."
As Advent opens its doors, festive strains and fragile temperaments easily appear behind those doors. I hope we'll shape the season as we want it to be repeated – that words taken to heart, to memory, will be encouraging ones. Or at least as forgettable as Johann Gambolputty de von Ausfern...
Broadcast