Main content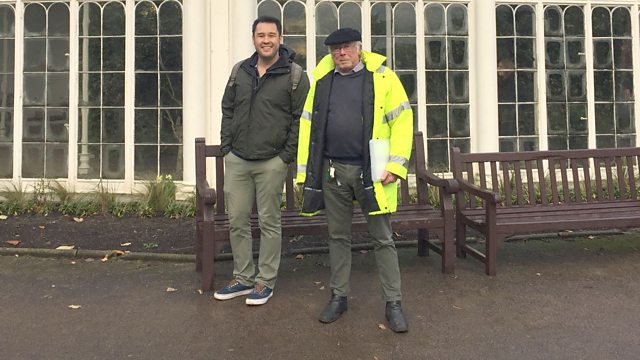 St Ann's Allotments, Nottingham
Kathy Clugston and the team visit the St Ann's Allotments in Nottingham.
Kathy Clugston and the team visit the St Ann's Allotments in Nottigham. Bunny Guinness, Bob Flowerdew and James Wong answer the audience's questions.
The panellists discuss what to grow in a polytunnel during winter, their favourite seasonal flowering plants and how to recover garden space after flooding. They also consider the best trees to give as gifts.
Away from the questions, James Wong visits the Camellia House in nearby Wollaton Park to meet Pete Forster and find out more about this winter flowering beauty.
Producer: Laurence Bassett
Assistant Producer: Jemima Rathbone
A Somethin' Else production for BBC Radio 4
Plant List
Questions and time codes are below. Where applicable plant names are listed.
Q – Which vegetables should I grow for my rabbit over the winter? 
(3 minutes 32 seconds)
James – New Zealand Spinach (Tetragonia tetragonoide)
Q – Most of our allotment plots have flooded, how do we help them in their recovery?
(6 minutes 23 seconds)
Q – We have a 120-year-old apple tree that has come down due to the heavy rain. Could we replant it with another fruit tree or would it suffer from replant sickness? 
(8 minutes 7 seconds)
Q – I have an unheated polytunnel, what do I do with it now after my tomatoes, cucumbers and chilli peppers have all gone?
(11 minutes 11 seconds)
Feature
(14 minutes 53 seconds)
Camellia japonica
Camelia sinensis
Camellia japonica alba plena
Bunny – Acacia
Acacia baileyana purpurea
Bob – Lonicera fragrantissima
Q – We've recently moved from large, established gardens to a 15m2 (161sqft) gardens. What advice can you give us to quickly make these areas more interesting?
(23 minutes 20 seconds)
Q – In the summer I potted on some strawberry offshoots. I've moved them in to the greenhouse to avoid heavy rain, what's the best way to grow them over winter?
(25 minutes 50 seconds)
Q – I have a 30-year-old weeping 'Nozomi' rose and in recent years it hasn't been doing very well. Does a standard rose have a lifespan or is there something I can do?
(27 minutes 23 seconds)
Correspondence: Eryngium
(29 minutes 18 seconds)
Eryngium planum
Sea holly (Eryngium)
James – Sore tooth coriander (Eryngium foetidum)
Bob – Eryngium eriophorum
Bunny – Eryngium pandanifolium
Eryngium agavifolium
Correspondence: Trees as gifts
(33 minutes 42 seconds)
Bob – Pear tree (Doyenne du comice)
Bunny – Yew (Taxus baccata)
James – Ficus benjamina
Q – What causes dieback on acers?
(36 minutes 6 seconds)
Bunny – Acer Japonicum
Acer palmatum)
Q – What can we learn from other countries about greening our city centres?
(38 minutes 53 seconds)
Bunny – Berberis
Cotoneaster