Main content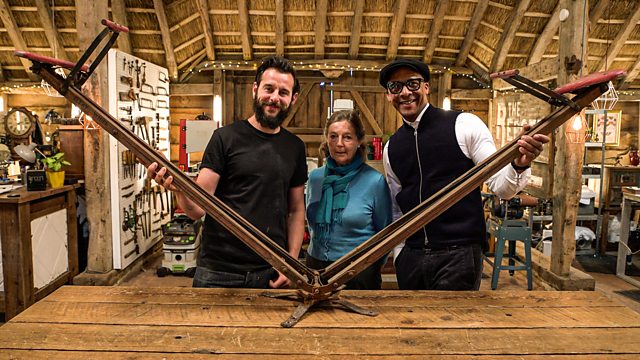 The team take on a rare and collectable seesaw, a hand-stitched bedspread and a shooting stick.
Metalworker Dominic Chinea is challenged to revive a rare and curious children's toy. This Flexiwhirl seesaw gave owner Joanna Butterwick immense joy as a child, and she's hoping the Repair Shop can help her replicate that for future generations. The seesaw was produced back in the 1930s and was ahead of its time. Not only does it go up and down, it also goes round and round.
Embroidery expert Sara Dennis is given the task of reviving a century-old embroidered bedspread. It's an item that holds great sentimental value for owner Valerie Wilson, who is hoping to breathe new life into this beautifully crafted heirloom, which was a labour of love for her talented mother.
Finally, it's a family affair as siblings Steve and Suzie Fletcher work together on a gentlemen's shooting stick - an ingenious seat-on-the-go for walkers and lovers of country pursuits. The stick has special significance for owner Brian Greaves, whose father was a writer and Dickens enthusiast. It's a memento of a special literary tour that they completed together.