Main content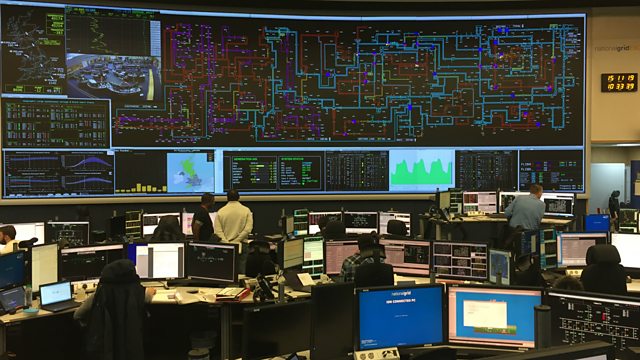 Keeping the Lights On
There's increasing demand for electricity, and the sources of it are changing - so how can Britain ensure a constant supply?
As Britain's sources of electricity change, along with significant changes in demand, how will the lights stay on?
The major power blackout that hit the UK in early August – the worst in more than a decade – was an indication of how increasingly complicated our electricity grid is becoming. Hundreds of thousands of people, as well as major transport hubs, were affected as electricity supplies were cut to restore balance to the system and prevent an even greater blackout.
The National Grid, which is the energy system operator, said two generators, including a major wind-farm, tripped out after lightning struck a high-voltage transmission line. The episode raised many questions about how stable the UK's electricity supply system is.
What is clear is that the traditional coal-fired generators, which used to supply much of the UK's electricity, are being rapidly phased out. Now many more - and varied - generators supply the grid, including small and huge wind-farms, solar farms, nuclear power stations, gas-fired plants, hydro-electric turbines and other sources. This makes the management of the system more tricky.
Then there's the demand side. Electricity demand is growing, not least with the prospect of electrical cars becoming commonplace. Without building the right infrastructure, with the right storage, and without the correct planning, the electricity grid will not be able to cope.
For Radio 4's In Business David Baker speaks to the National Grid, to major electricity suppliers, and to smaller, community-based generators, asking how the system is changing and what needs to be done to make sure it remains reliable, affordable and sustainable, so that the future is not one of widespread blackouts.
Producer: John Murphy
Picture: National Grid's Electricity Control Centre
Last on