Main content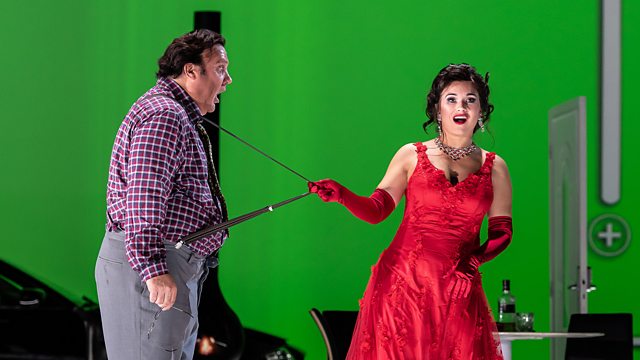 Donizetti's Don Pasquale
Bryn Terfel heads a star cast in Damiano Michieletto's new production of Donizetti's comic opera Don Pasquale, from the Royal Opera House, Covent Garden.
Don Pasquale is an old and wealthy but miserable bachelor who is looking to marry off his nephew Ernesto, who wants to marry the beautiful but penniless widow Norina. Don Pasquale disinherits him, and at the advice of his friend and Doctor Malatesta, decides to take a young wife of his own. The young couple run rings around him, including disguising Norina and a fake wedding, they reveal their trickery but an exhausted Don Pasquale forgives them, happy to remain quietly single.
Bryn Terfel stars as Don Pasquale, and heads a glittery and virtuosic cast with soprano Olga Peretyatko as Norina, and Ioan Hotea as Ernesto in Damiano Michieletto's new production from the Royal Opera House conducted by Evelino Pido.
Sean Rafferty presents this sparkling production and chats to opera commentator, Sarah Lenton.
Don Pasquale.....Bryn Terfel (Baritone)
Ernesto.....Ioan Hotea (Tenor)
Doctor Malatesta.....Markus Werba (Baritone)
Norina.....Olga Peretyatko (Soprano)
Notary.....Bryan Secombe (Bass)
Royal Opera House Orchestra
Royal Opera House Chorus
Evelino Pido (Conductor)
Synopsis
Act I
Don Pasquale receives his friend, Doctor Malatesta, in his apartments. He plans to deprive his nephew and legitimate heir, Ernesto, of his inheritance. The latter has had the bad taste to fall in love with Norina, a penniless young widow, even though Don Pasquale has presented the young man with a more worthy match. The old miser has decided that he himself should be the one to get married. Malatesta informs him that he has the ideal fiancée: his own sister, Sofronia, whom he describes as a timid, naive convent-raised girl. An impatient Don Pasquale implores the doctor to introduce him to her right away.
When Ernesto arrives, the old fogey again tries to convince his nephew to marry the woman he has chosen for him. However, faced with Ernesto's obstinacy, Don Pasquale disinherits him for good and informs him of his imminent marriage to Malatesta's sister.Ernesto is all the more astounded since he has been led to believe he has the doctor's complete support. Unable to guarantee her future, Ernesto decides to leave Norina. Norina receives Ernesto's letter announcing the breakup and his departure. Doctor Malatesta rushes to reassure the young woman. He explains that his sole strategy is to fool Don Pasquale. He intends to have him married before a fake notary to a seemingly sweet and amiable woman who, as soon as the vows are uttered, will turn into a veritable harpy.In so doing, he hopes to drive the poor man over the edge and persuade him to allow his nephew to marry whoever he chooses. A delighted Norina agrees to play the role of Malatesta's sister.
Act II
Left alone, Ernesto wallows in despair: disavowed by his uncle and betrayed byhis friend, he has been obliged to renounce the woman he loves. For his part, Don Pasquale prepares for the arrival of his future bride. She enters, under a veil, on Malatesta's arm. The old man is instantly won over by her shy naivety and smitten by her charms when she finally removes the veil for him. He demands that they be married straight away. Malatesta immediately summons his cousin, who, disguised as a notary, draws up the contract. Ernesto arrives to bid farewell to his uncle and discovers his beloved arm-in-arm with Don Pasquale. In an aside, Malatesta explains to the young man that he must play along for his own good.

As soon as the marriage is concluded, the young bride turns into a shrew. Harsh and domineering, she cajoles and insults Don Pasquale to the delight of an amazed Ernesto.The old man, dumbfounded by this change of situation, almost has a stroke when the young woman orders the servants to completely rearrange the furniture in the house.

Act III
Don Pasquale's house is in utter turmoil and the bills are piling up: jewellery, hats,flowers, gowns… . A distraught Don Pasquale even receives a slap when he tries to stop his young wife from going out to have some fun. His humiliation is complete when hefinds a note arranging a secret tryst between the young woman and another suitor.Don Pasquale asks Malatesta to help rid him of his shrew of a wife. Malatesta suggests to Don Pasquale that they resolve the situation by way of a ruse. He tells the young wife that she must share her house with Norina, the future bride of Ernesto. The young woman replies that she would sooner leave than share her home with another woman.Don Pasquale is now eager to accept his nephew's marriage to Norina, seeing it as a means to be rid of his own wife. Soon thereafter, Malatesta finally reveals the subterfuge to Don Pasquale: Sofronia and Norina are one and the same person. Initially annoyed and upset at having been taken advantage of, Don Pasquale is ultimately relieved to be rid of his termagant wife. He forgives them all and agrees to the union of the young couple.