Main content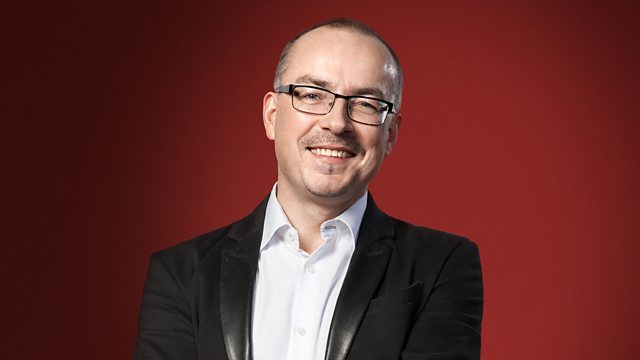 Andrew McGregor with Sarah Walker and Caroline Gill
Sarah Walker joins Andrew in the studio to discuss and recommend a recording of Haydn's Symphony No 102.
with Andrew McGregor
09.30
Building a Library: Sarah Walker joins Andrew in the studio to discuss and recommend a recording of Haydn's Symphony No 102.
The tenth of Haydn's so-called 'London' symphonies, it was specially commissioned for performance in the city. In the hands of an insightful interpreter, it can be in turns joyous, incisive, and moving - Sarah guides us to the ultimate must-have version.
10.50
Caroline Gill pops in to talk about a brace of recent releases of chamber music and concertos by Tchaikovsky and Prokofiev.
11.25
Andrew chooses an outstanding new release as his Recording of the Week.
Record Review
9.00am
Versailles - Alexandre Tharaud: music by Rameau, Visée, Royer, Anglebert, Couperin, Duphly, Lully & Balbastre
Alexandre Tharaud (piano)
Sabine Devieilhe (soprano)
Justin Taylor (piano)
Erato 9029538642
https://www.warnerclassics.com/release/versailles
Mussorgsky: Pictures at an Exhibition and music by Khachaturian, Kabalevsky, Shchedrin & Rachmaninov
Royal Liverpool Philharmonic Orchestra
Vasily Petrenko (conductor)
Onyx ONYX4211
http://www.onyxclassics.com/cddetail.php?CatalogueNumber=ONYX4211
The Soldier - From Severn to Somme: music by Butterworth, Gurney, Somervell etc.
Christopher Maltman (baritone)
Joseph Middleton (piano)
Signum SIGCD592
https://signumrecords.com/product/the-soldier-from-severn-to-somme/SIGCD592/
Simon Trpčeski - Tales from Russia: music by Prokofiev, Mussorgsky & Rimsky Korsakov
Simon Trpceski (piano)
Onyx ONYX4191
http://www.onyxclassics.com/cddetail.php?CatalogueNumber=ONYX4191
9.30am – Building a Library – Sarah Walker on Haydn's Symphony No. 102 in B flat major, Hob I:102
Composer: Joseph Haydn
Reviewer: Sarah Walker
Recommended Recording:

Hanover Band
Roy Goodman (director, fortepiano)
Helios CDH55127
Other Recommended Recordings:
Royal Concertgebouw Orchestra
Nikolaus Harnoncourt (conductor)
Warner Classics 2564630612 (download only) and 2564696122 (5CDs)
Academy of St. Martin in the Fields
Sir Neville Marriner (conductor)
Philips 4321392 (download only)
10.20am – New Releases
Bruckner: Requiem
Johanna Winkel (soprano)
Sophie Harmsen (mezzo-soprano)
Michael Feyfar (tenor)
Ludwig Mittelhammer (baritone)
RIAS Kammerchor Berlin
Akademie für Alte Musik Berlin
Łukasz Borowicz (conductor)
Accentus Music ACC30474
http://accentus.com/discs/anton-bruckner-requiem-rias-kammerchor-akademie-fur-alte-musik-berlin-lukasz-borowicz
The Musical Treasures of Leufsta Bruk: Vol.3
Elin Rombo (soprano)
Rebaroque
Maria Lindal (conductor)
BIS BIS2354 (Hybrid SACD)
https://bis.se/the-musical-treasures-of-leufsta-bruk-vol3
John Eliot Gardiner - Complete Beethoven Recordings
Hillevi Martinpelto (soprano)
Christiane Oelze (soprano)
Kim Begley (tenor)
Michael Schade (tenor)
Franz Hawlata (bass baritone)
Matthew Best (bass)
Alastair Miles (bass)
Monteverdi Choir
Peter Hanson (violin)
Lucy Howard (violin)
Viktoria Mullova (violin)
Alan George (viola)
Annette Isserlis (viola)
David Watkin (cello)
Robert Levin (piano)
Orchestre Revolutionnaire et Romantique
John Eliot Gardiner (conductor)
Archiv/Deutsche Grammophon 483 7269 0 (15CDs)
https://www.deutschegrammophon.com/us/cat/4837269
Paganini - Schubert
Vilde Frang (violin)
Michael Lifits (piano)
Warner Classics 9029541936
https://www.warnerclassics.com/release/paganini-schubert
Nelson Freire – Encores: music by Sgambati, Pucell, Scarlatti, Stojowski etc.
Nelson Freire (piano)
Decca 4850153
https://www.deccaclassics.com/gb/cat/4850153
10.45am – New Releases – Caroline Gill on new chamber discs
Tchaikovsky & Babajanian: Piano Trios
Vadim Gluzman (violin)
Johannes Moser (cello)
Yevgeny Sudbin (piano)
BIS BIS2372 (Hybrid SACD)
https://bis.se/label/bis/tchaikovsky-babajanian-piano-trios
Tchaikovsky & Rachmaninoff: Piano Trios
Franco Mezzena (violin)
Sergio Patria (cello)
Elena Ballario (piano)
Dynamic CDS7825
Tchaikovsky: Piano Concerto No.1 - Prokofiev: Piano Concerto No. 2
Haochen Zhang (piano)
Lahti Symphony Orchestra
Dima Slobodeniouk (conductor)
BIS BIS2381 (Hybrid SACD)
https://bis.se/conductors/slobodeniouk-dima/haochen-zhang-plays-prokofiev-tchaikovsky
Mischa & Lily Maisky - 20th Century Classics: music by Britten, Bloch, Bartók, Stravinsky etc.
Mischa Maisky (cello)
Lily Maisky (piano)
Deutsche Grammophon 4837289 (2CDs)
https://www.deutschegrammophon.com/us/cat/4837289
Prokofiev: Sinfonia Concertante, Cello Sonata
Bruno Philippe (cello)
Tanguy de Williencourt (piano)
Frankfurt Radio Symphony Orchestra
Christoph Eschenbach (conductor)
Harmonia Mundi HMM902608
http://www.harmoniamundi.com/#!/albums/2549
11.15am – Record of the Week
JS Bach: Violin Concertos
Kati Debretzeni (violin)
The English Baroque Soloists
Sir John Eliot Gardiner (conductor)
SGD SDG732
https://monteverdi.co.uk/shop/product/bach-violin-concertos/