Main content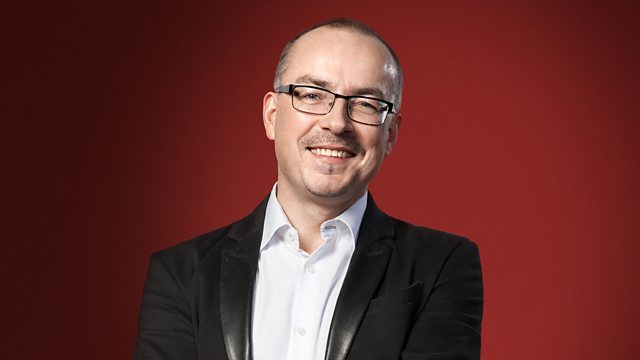 Andrew McGregor with Jeremy Summerly and Harriet Smith
Andrew McGregor with Stravinsky's Symphony of Psalms and piano music from Alkan, Rachmaninov and Prokofiev.
with Andrew McGregor
09.30
Building a Library: Jeremy Summerly is in the hot seat, sifting through recordings of Stravinsky's austerely beautiful Symphony of Psalms.
A choral symphony from the composer's 'neoclassical' period, Stravinsky's compact, three-movement work has been fortunate on record with a wide range of interpretations from all round the world. It inhabits a unique sound world, omitting as it does clarinets, violins and violas, and comparisons are guaranteed to be fascinating.
10.50
Harriet Smith joins Andrew for a round-up of recent virtuoso piano recordings, including Alkan from Paul Wee, Rachmaninov from Daniel Trifonov and Prokofiev from Alexander Melnikov.
11.25
Andrew chooses an outstanding new release as his Recording of the Week.
Record Review
9.00am
Haydn: Missa Cellensis
RIAS Kammerchor Berlin
Akademie für Alte Musik Berlin
Justin Doyle (conductor)
Harmonia Mundi HMM902300
http://www.harmoniamundi.com/#!/albums/2561
Schubert: Piano Trio No. 2 & Notturno
Hamlet Piano Trio
Channel Classics CCS41719
https://www.channelclassics.com/catalogue/41719-Schubert-Piano-Trio-No-2-and-Notturno/
Ethel Smyth: Fête Galante / Liza Lehmann: The Happy Prince
Charmian Bedford (soprano)
Carolyn Dobbin (mezzo)
Felix Kemp (baritone)
Simon Wallfisch (baritone)
Mark Milhofer (tenor)
Alessandro Fisher (tenor)
Dame Felicity Lott (reciter)
Valerie Langfield (piano)
Lontano Ensemble
Odaline de la Martinez (conductor)
Retrospect Opera RO007
http://www.retrospectopera.org.uk/CD_SALES/CD_Sales_FeteG.html
Beethoven: Piano Concertos Nos. 1, 3, 4 & Triple Concerto
Inon Barnatan (piano)
Stefan Jackiw (violin)
Alisa Weilerstein (cello)
Academy of St. Martin in the Fields
Alan Gilbert (conductor)
Pentatone PTC5186817 (2CDs)
https://www.pentatonemusic.com/beethoven-piano-concertos-1-3-4-triple-inon-barnatan-alan-gilbert-alisa-weilerstein-stefan-jackiw-academy-of-st-martin-in-the-fields
9.30am – Building a Library – Jeremy Summerly on Stravinsky's Symphony of Psalms
Composer: Igor Stravinsky
Reviewer: Jeremy Summerly
Recommended Recording:

Toronto Festival Singers
CBC Symphony Orchestra
Elmer Iseler (chorus master)
Igor Stravinsky (conductor)
Sony 88875126242 (3CDs or download)
Other Recommended Recordings:
Rundfunkchor Berlin
Berliner Philharmoniker
Sigurd Brauns (chorus master)
Pierre Boulez (conductor)
Deutsche Grammophon E4576162
English Bach Festival Choir
London Symphony Orchestra
Leonard Bernstein (conductor)
Sony G010002678750Z (download only) or G010003720136U (download only)
10.20am – New Releases
Schubert: Symphony No. 9
Scottish Chamber Orchestra
Maxim Emelyanychev (conductor)
Linn CKD619
https://www.linnrecords.com/recording-schubert-symphony-no-9-c-major-great-d-944
In Nomine II: works by Muhly, Bryars, Purcell, Tye, Parsons etc.
Fretwork
Signum SIGCD576
https://signumrecords.com/product/il-nomine-ii/SIGCD576/
The Godfather - Masters of the German & Italian Baroque: concertos by Telemann, Pisendel, J. S. Bach, Brescianello, Vivaldi & Fasch
La Serenissima
Adrian Chandler (director/violin)
Signum SIGCD602
https://signumrecords.com/product/the-godfather/SIGCD602/
10.45am – New Releases – Harriet Smith on new piano discs
Destination Rachmaninov – Arrival: Piano Concertos 1 & 3
Daniil Trifonov (piano)
Philadelphia Orchestra
Yannick Nézet-Séguin (conductor)
Deutsche Grammophon 4836617
https://www.deutschegrammophon.com/us/cat/4836617
Prokofiev: Piano Sonatas 3, 8 & 9
Freddy Kempf (piano)
BIS BIS2390 (Hybrid SACD)
https://bis.se/performers/kempf-freddy/prokofiev-piano-sonatas-nos-3-8-9
Prokofiev: Piano Sonatas, Vol. 2: Sonatas 4,7 & 9
Alexander Melnikov (piano)
Harmonia Mundi HMM902203
http://www.harmoniamundi.com/#!/albums/2550
Alkan: Concerto For Solo Piano and other works
Schaghajegh Nosrati (piano)
Avi Music AVI8553104
https://avi-music.de/html/2019/3104.html
Alkan: Concerto and Symphony for Solo Piano
Paul Wee (piano)
BIS BIS2465 (Hybrid SACD)
https://bis.se/performers/wee-paul/alkan-concerto-and-symphony-for-solo-piano
11.15am – Disc of the Week
Like to the Lark: works by Vaughan Williams, Bingham, Stanford, Stenhammar, Alfvén, Wikander, Mahler & Gjeilo
Jennifer Pike (violin)
Maria Forsström (mezzo-soprano)
The Swedish Chamber Choir
Simon Phipps (conductor)
Chandos CHSA5255 (Hybrid SACD)