Main content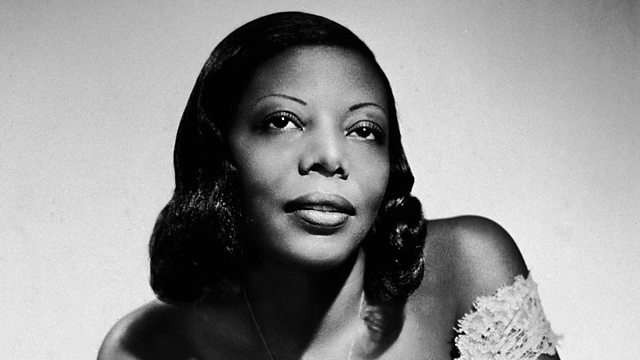 The priest and the jazz musician
Donald Macleod's survey of jazz musician Mary Lou Williams sees her still breaking boundaries musically and embracing a role teaching jazz history at Duke University.
Donald Macleod survey of Mary Lou Williams finds her still breaking boundaries musically and embracing a role teaching jazz history at Duke University in Durham, North Carolina.
Mary Lou Williams' music stands out from the crowd because, as Duke Ellington recognised, "her writing and performing have always been just a little ahead throughout her career." A prolific composer and arranger, she was also a gifted pianist. A master of blues, boogie woogie, stride, swing and be-bop, Williams was quick to absorb the prevailing musical currents in her own music, naturally able to exploit her ability to play anything she heard around her. It is this restless musical curiosity that defines her own compositions, and led her to become friends with and mentor many younger musicians, among them Thelonius Monk, Bud Powell, Charlie Parker and Dizzy Gillespie.
Born around 1910 in Atlanta, Georgia, Williams grew up in Pittsburgh, where she had to overcome racial segregation, gender discrimination and the disadvantages of an impoverished family to realise her musical ambitions. Learning to play entirely by ear, she was performing locally by age six. Barely into her teens she was touring professionally as a pianist, living proof that - contrary to the prevailing views - women really could play jazz as well as men. But her artistic success came at some personal cost, with instances of domestic abuse, two divorces, a gambling addiction, and the ongoing strain of trying to support her extended family, all taking its toll over the years. After taking a spiritual path, she spent some years trying to rehabilitate addicted musicians, and developed an interest in writing sacred jazz pieces, and after a long career of some sixty years she took on the mantle of educating future generations about the cultural roots of jazz.
Over the course of the week Donald Macleod follows Mary Lou Williams as her life and musical pathways intertwine, from the early years playing Kansas City swing, to embracing be-bop, religion and modern jazz.
After some fifty years of ups and downs and sheer hard graft, from 1966 Mary Lou Williams was managed by a Jesuit priest, Father O'Brien. A decade on she was finally financially secure, able to devote herself to her own varied projects, performing, writing and producing critically acclaimed recordings, and realising a long cherished ambition, a history of Jazz.
ML Williams, L. Gales: Syl-o-gism
Mary Lou Williams, piano
Zita Carno, piano
Bob Cranshaw, bass
Mickey Roker, drums
Why?
The Mary Lou Williams Quartet
Mary Lou Williams, piano
Alvin Banks, bass
Gerard "Dave" Pochonet, Drums
Don Byas, tenor saxophone
Chunka Lunka
Mary Lou Williams, piano
Percy Heath, bass
Tim Kennedy, drums
Ode to Saint Cecilie
Mary Lou Williams, piano
Buster Williams, bass
Mickey Roker, drums
Medi II
Bob Cranshaw, bass
Mickey Roker, drums
Blues for Timme
Mary Lou Williams, piano
Buster Williams, bass
Mickey Roker, drums
Ghost of Love
Mary Lou Williams, piano
Praise the Lord
Mary Lou Williams, piano
Milton Suggs bass violin
Tony Waters drums
What's your story Morning Glory
Mary Lou Williams, piano
Roll'Em
Benny Goodman, Clarinet
Victor Paz, Warren Vache, Jack Shelton, trumpets
Wayne Andre, George Masso, John Messner, trombones
George Young, Mel Rodnon, alto saxophones
Buddy Tate, Frank Wess, tenor saxophones
Sol Schlinger, baritone sax
MLW piano and arranger
Cal Collins, Wayne Wright, guitar
Michael Moore, bass
Connnie Kay drums
Last on

More episodes
Next
You are at the last episode
Broadcast