Main content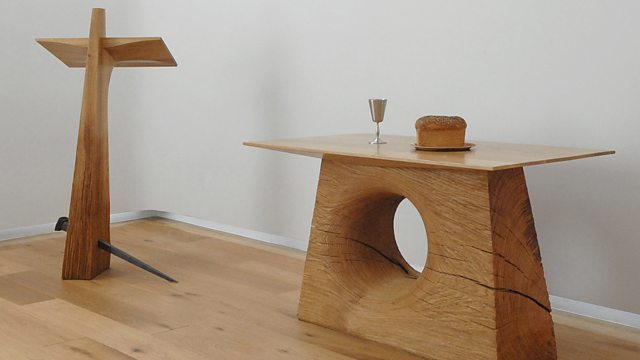 Art and Christianity 2: Guildford Baptist Church
The second of three services reflecting on contemporary works of art in churches in the UK
The second of three services reflecting on contemporary works of art in churches in the UK. In this act of worship, from Guildford Baptist Church, Professor Ben Quash from King's College London reflects on the church's new Prayer Chapel Communion Table and Lectern, designed and created by Stephen Owen. The service is led by Rev Ian Stackhouse with Rev Karen Case-Green.
Music
1. Be still for the presence of the Lord
(CD: More than Hymns, Wells Cathedral Choir)
2. O nata lux - Lauridsen
(CD: Lux - Voces 8)
3. Be still and know
(CD: Chants for Prayer - Keith Duke, Geoffrey Nobles and Margaret Rizza)
Prayer Chapel Communion Table and Lectern - Stephen Owen
In the intimacy of this small Baptist Chapel in Guildford, Stephen Owen's oak lectern and communion table take us on an upward journey.
The lectern has a huge nail driven diagonally through its base. The nail's tip rests on the floor of the chapel—seeming almost to pierce the floor as well.
It's a downward slant.
But like a tree that can outgrow its flesh wounds—incorporating what has penetrated it, wrapping it about with new growth—the lectern rises confidently upwards. It is tree-like, and for the same reason cross-like. And the horizontal arms that support the Scriptures also echo bird's wings—and thus, subtly, the traditional iconography of so many eagle-shaped church lecterns.
So, then, far from being pinned to earth by the nail, the upward energy of this sculpted form suggests an unstoppable life that can allow God's Word to take flight from it.
The communion table which stands next to the lectern bears an off-centre, circular hole in its base. If the lectern remains penetrated by the nail, the table is different. Whatever once penetrated it is no longer there. Perhaps this hole isn't a wound at all. Or perhaps it is a unique kind of wound. Not the result of violence from outside, but the rupturing assertion of life from within. This circular hole evokes the open mouth of Christ's tomb. If so, then the table suggests that in Christ's resurrection the grave itself was wounded, as an immortal divine love drove its way outwards from inside its confining walls.
As we look at the table, are we being invited to explore this open wound and realize it not just as the mark of human cruelty but as the achievement of divine power? To see it as a passageway through which life and light are flowing towards us?
I've suggested that the table and the lectern can be contrasted with each other. But they also have something very striking in common. In both cases, the wood of their bases is rough, split and unfinished. This helps us to relate to them, for we too are split and unfinished. You can insert prayers in the gaps in the wood at the foot of the lectern, and in this way you can interact quite literally—through the roughness of the wood—with the one who chose to become like us: Jesus Christ.
But Christ became like us for a purpose. He became like us so as to change us into his perfect likeness. As they extend upwards, the wood of both objects becomes smoother and more finished. As we are to do. For God is working on us, in word and sacrament, in places of encounter like this little chapel—and is transforming us from one degree of glory to another.