Main content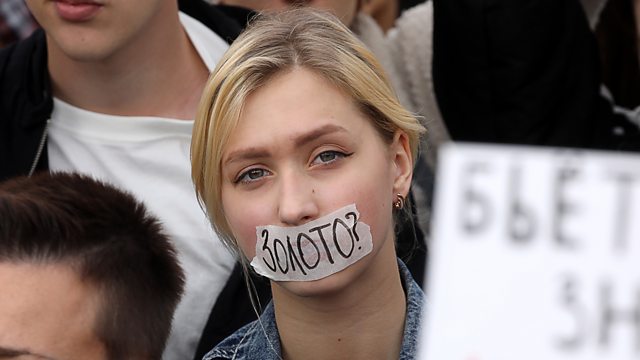 Russian Women Fight Back
Hundreds of Russian women are killed by their partners every year. Lucy Ash talks to the activists who are pushing for legal reforms and fighting back against domestic abuse.
Domestic abuse in Russia is endemic with hundreds maybe thousands of women dying at the hands of their partners every year. Despite this a controversial law was passed in 2017, which scrapped prison sentences for first-time abusers. Beatings that do not cause broken bones or concussion are now treated as administrative offences rather than crimes. As one activist puts it: "the punishment for beating your wife now feels like paying a parking ticket."
But Russian society is waking up to the crisis. The case of three girls - the Khachaturyan sisters - who face long prison sentences for murdering their tyrannical father, has sparked mass protests. More than 300,000 people have signed an online petition urging prosecutors to drop the murder charges. The girls' mother tells reporter Lucy Ash that her daughters were acting in self-defence against a man who had abused them physically, emotionally and sexually for years.
Lucy also meets the mother of a woman stabbed to death by her husband who was discovered in her blood soaked bed by her seven year old son. In both cases, the frightened women had appealed to the police but to no avail. These tragedies might have been averted if only the authorities had taken earlier warnings seriously.
In Moscow, Lucy talks to activists who are fighting back by supporting victims, pushing for legal reforms and drawing attention to the cause through art, video games and social media. And she meets a lone feminist MP in the Russian Duma who is trying to bring in restraining orders for violent husbands, boyfriends and family members. Today Russia has no such laws and domestic violence is not a standalone offence in either the criminal or the civil code.
Producers: Josephine Casserly and Albina Kovalyova
Research: Nina Nazarova
(Image: This woman asks whether silence is really golden – more Russian women are speaking out against domestic violence. Credit: Sergei Konkov\TASS via Getty Images)
Last on
Broadcasts