Main content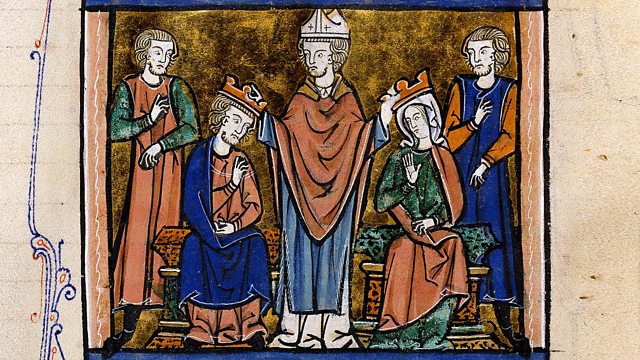 Melisende, Queen of Jerusalem
Melvyn Bragg and guests discuss the most powerful queen in the Kingdom of Jerusalem in C12th, after the First Crusade, ruling with her husband Fulk and then their son Baldwin III
Melvyn Bragg and guests discuss the most powerful woman in the Crusader states in the century after the First Crusade. Melisende (1105-61) was born and raised after the mainly Frankish crusaders had taken Jerusalem from the Fatimids, and her father was King of Jerusalem. She was married to Fulk from Anjou, on the understanding they would rule together, and for 30 years she vied with him and then their son as they struggled to consolidate their Frankish state in the Holy Land.
The image above is of the coronation of Fulk with Melisende, from Livre d'Eracles, Guillaume de Tyr (1130?-1186)
Source: Bibliothèque nationale de France
With
Natasha Hodgson
Senior Lecturer in Medieval History and Director of the Centre for the Study of Religion and Conflict at Nottingham Trent University
Katherine Lewis
Senior Lecturer in History at the University of Huddersfield
and
Danielle Park
Visiting Lecturer at Royal Holloway, University of London
Producer: Simon Tillotson
Last on
LINKS AND FURTHER READING
Katherine Lewis at the University of Huddersfield
Natasha Hodgson at Nottingham Trent University
Danielle Park at Royal Holloway, University of London
Twelfth-Century Girl Power: Medieval manuscripts blog – British Library
How Game of Thrones reflects historical anxieties about women, motherhood and power by Natasha Hodgson - The Conversation
Melisende, Queen of Jerusalem – Wikipedia
READING LIST:
Derek Baker (ed.), Medieval Women (Blackwell, 1978), especially 'Women in the Crusader States: The Queens of Jerusalem' by Bernard Hamilton 
Malcolm Barber, The Crusader States (Yale University Press, 2012)
Theresa Earenfight (ed.), Women and Wealth in Late Medieval Europe (Palgrave Macmillan, 2010), especially 'The Spending Power of a Crusader Queen: Melisende of Jerusalem' by H. A. Gaudette
Theresa Earenfight, Queenship in Medieval Europe (Palgrave, 2012)
Susan B. Edgington and Sarah Lambert (eds,), Gendering the Crusades (University of Wales Press, 2001)
Natasha R. Hodgson, Women, Crusading and the Holy Land in Historical Narrative (Boydell Press, 2017)
Therese Martin (ed.), Reassessing the Roles of Women as 'Makers' of Medieval Art and Architecture (Brill, 2015), especially 'Melisende of Jerusalem: Queen and Patron of Art and Architecture in the Crusader Kingdom' by J. Folda
Danielle Park, Fulk and Melisende: King and Queen of Jerusalem (forthcoming - Routledge, 2021)
Jonathan Phillips, Holy Warriors: A Modern History of the Crusades (Vintage, 2010)
Denys Pringle, The Churches of the Crusader Kingdom of Jerusalem: A Corpus: vol. III, The City of Jerusalem (Cambridge University Press, 2007)
Steve Tibble, The Crusader Armies (Yale University Press, 2018)
Broadcasts

Featured in...
Browse the Medieval era within the In Our Time archive.

Historical themes, events and key individuals from Akhenaten to Xenophon.